Introduction
Many types of Pergolas are an excellent addition to any home. They provide shade and cover and add beauty and elegance to your backyard or patio. With so many different types of pergolas, you can choose the kind that best suits you and your family's needs.
Different Types of Pergolas According To The Materials
Vinyl Pergolas
Vinyl pergolas, skillfully crafted from a durable material known as vinyl, stand as an exceptional choice for outdoor spaces. They differ from their wooden counterparts in several ways. Firstly, vinyl pergolas exhibit remarkable resilience. They are impervious to rot and warping, eliminating the need for constant upkeep. Consequently, you'll save both time and money in the future. Additionally, their ability to resist various weather conditions is noteworthy. Whether facing relentless rain or intense sunlight, these structures maintain their integrity.
When it comes to cleaning, it's incredibly straightforward. A gentle wash with a hose and a mild detergent is all it takes. Moreover, vinyl pergolas provide a myriad of design possibilities. You're free to customize them according to your personal outdoor style and preferences. Although the initial cost may be slightly higher than wood, the long-term financial benefits are undeniable. Reduced maintenance and replacement expenses render vinyl pergolas a wise investment. Furthermore, these chic and practical structures are easily accessible online. You'll also discover user-friendly Amish pergola kits, adding to their appeal.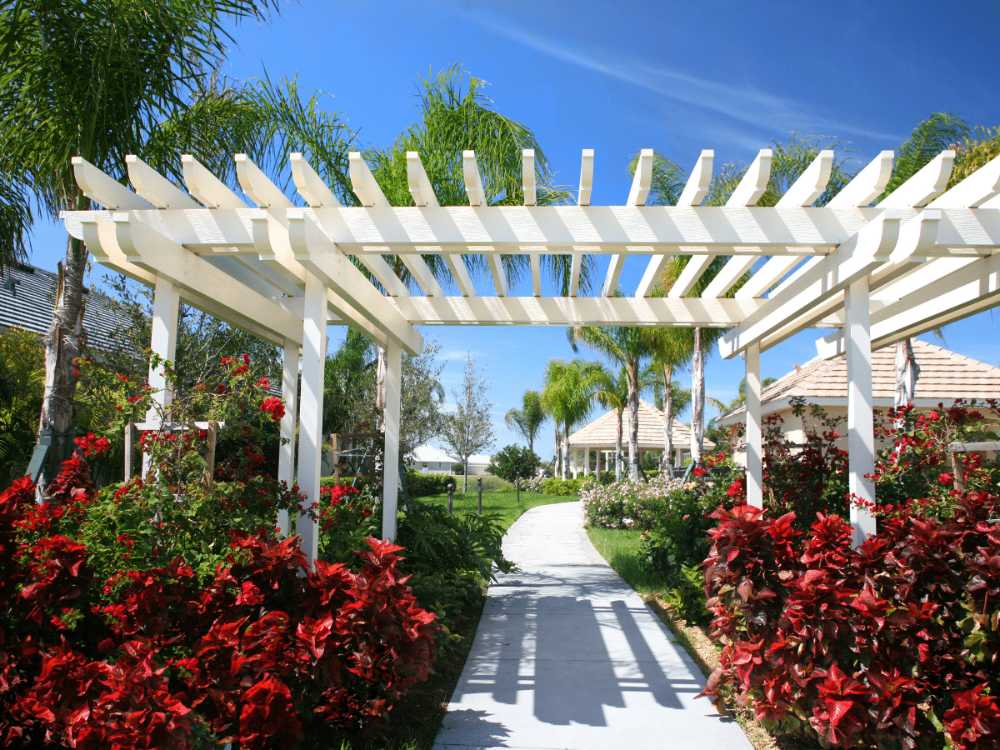 Related: The Ultimate Guide To Vinyl Pergola Kits
Steel Pergolas
Steel pergolas, primarily crafted from robust steel or metal, enhance various outdoor areas like gardens and patios. They deliver both functionality and aesthetic appeal. These structures are known for their resilience, particularly against harsh weather. They stand steadfast against rain, wind, and sunlight, which ensures their longevity. What distinguishes steel pergolas is their minimal upkeep. Unlike other materials, they don't require frequent staining or sealing. Additionally, they're impervious to rot and insect damage. This makes them a superb option for those seeking maintenance-free durability.
Their design versatility is another standout feature. It allows customization to suit individual preferences and complement the overall outdoor look. Initially, these pergolas may cost more than their wooden counterparts. However, they prove to be more economical over time due to their lasting durability. Some models even boast retractable canopies, offering adjustable shade. With professional installation and proper care, steel pergolas become a lasting, low-upkeep, and elegant feature of outdoor spaces. They provide persistent value and practicality.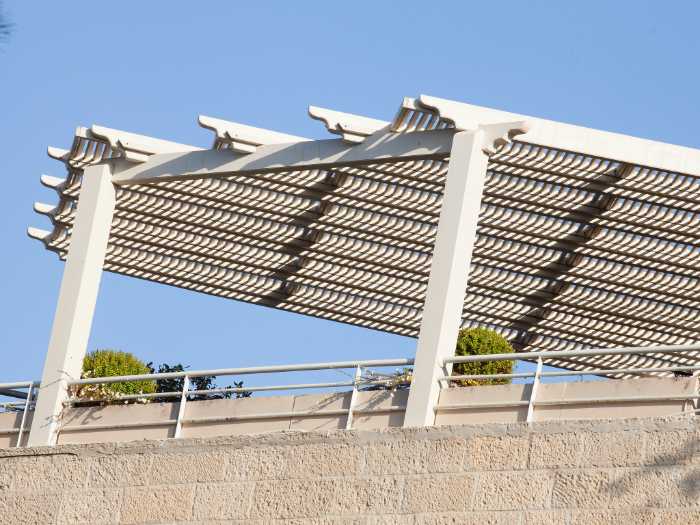 Aluminum Pergolas
Among various types, aluminum pergolas emerge as the top pick. Their light structure simplifies installation and upkeep, ideal for outdoor environments. These pergolas effortlessly withstand nature's challenges. Typically, pergola kits with aluminum frames are more affordable than wooden versions. They also offer a range of design possibilities. You can tailor these elegant structures with lattice panels or solid walls. This customization ensures both privacy and shade, yet permits plentiful sunlight.
Aluminum's robustness against rust and corrosion marks it as an excellent choice. It stands resilient under various climatic conditions. Added to its strength are extended warranties, highlighting its cost-efficiency. Furthermore, these pergolas require minimal maintenance. Their contemporary styles and features, like adjustable louvered roofs, add to their appeal. Consequently, aluminum pergolas maintain their status as a smart, stylish option for outdoor enhancement.
Fiberglass Pergolas
Fiberglass pergolas represent a magnificent enhancement to any external area. They are meticulously crafted from a fusion of glass fiber and reinforced polyester resin. This composition guarantees robustness and durability, effectively withstanding various weather conditions. Additionally, these pergolas are available in diverse sizes, hues, and designs. This variety positions them as a premier choice for enhancing outdoor environments.
A key attribute distinguishing fiberglass pergolas is their simple upkeep. They boast lasting sturdiness and offer tailor-made designs. These characteristics seamlessly introduce sophistication to your garden or patio. Moreover, their lightweight construction eases the installation process. This feature particularly attracts homeowners eager to augment their exterior spaces. They desire both functional shade and ornamental appeal. Ultimately, fiberglass pergolas epitomize innovation in outdoor design. They present a sturdy, low-maintenance, and visually appealing option. Such attributes are ideal for elevating the charm of your external sanctuary.
Concrete Pergolas
Among the myriad pergola types, concrete ones shine as an exceptional selection for enriching outdoor spaces. Due to concrete's adaptable nature as a construction material, artisans can mold pergolas into any size, form, or color. This flexibility ensures a perfect fit in any garden or yard. Concrete pergolas excel in their steadfast resilience, effortlessly braving the seasons. Notably, this sturdy material provides both practicality and aesthetic pleasure. It flaunts a spectrum of textures and hues, aligning beautifully with your home's design.
Concrete pergolas are more than simple structures. Indeed, they transform into enchanting retreats, casting soothing shadows over gardens and patios. Firmly rooted on solid concrete pillars, these pergolas boast a variety of styles. Options range from sleek, modern designs to richly decorated ones. Roofs also vary, some offering natural shade through wooden lattices or climbing plants. Others feature protective canopies. Often becoming the centerpiece of landscape designs, they can be surrounded by vibrant gardens or tranquil lounging areas. In short, concrete pergolas are symbols of both strength and elegance. They seamlessly combine utility and flair, elevating the joy of outdoor living."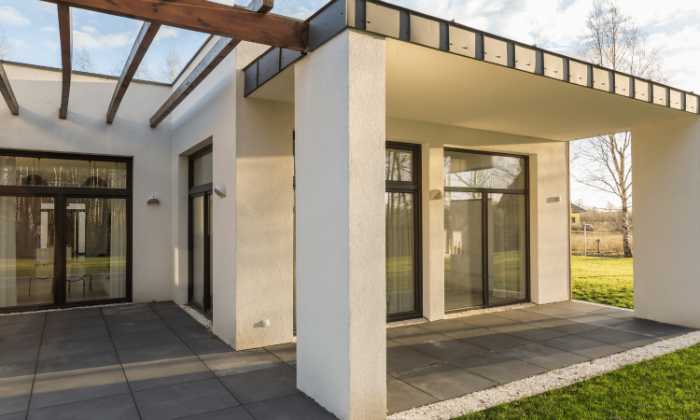 PVC Pergolas
PVC pergolas, crafted from Polyvinyl Chloride, serve as an adaptable and economical solution for beautifying your open-air spaces. These structures boast remarkable endurance, effectively withstanding decay, pests, and extreme weather. Additionally, the variety of designs is impressive, including arched and pitched roofs. Consequently, PVC pergolas seamlessly complement your outdoor decor. As for installation, it's straightforward, typically involving pre-cut and pre-drilled pieces. Moreover, customization options are available to suit your unique preferences. Regarding upkeep, it's effortless; a quick spray with a hose or a gentle detergent suffices to maintain their immaculate appearance. However, it's important to note their transparency may not provide much privacy. Nevertheless, they allow ample sunlight to penetrate, which could reduce energy expenditures. Therefore, if you're in pursuit of an affordable, user-friendly, and lightweight exterior structure that integrates effortlessly with your landscape, consider PVC pergolas as an ideal choice.
Bamboo Pergolas
Bamboo pergolas symbolize the enchanting charm of bamboo, reshaping exterior areas into lush paradises. They fulfill various roles. For instance, they provide shade for peaceful lounging spots. Moreover, they act as hosts for flourishing climbers like roses. This adds an element of natural sophistication to gardens and patios. Bamboo's strength and resilience against weather make these structures durable. In fact, they can last up to ten years, promoting both sustainability and longevity.
Meanwhile, eager DIY enthusiasts can undertake the creation of bespoke bamboo pergolas. They can customize them to suit personal preferences, utilizing tools such as bamboo splitters. On the other hand, an array of pre-fabricated options is available for those desiring ready-to-assemble alternatives. These pergolas, often found in resort-like settings, enhance the ambiance of outdoor areas. They craft spaces ideal for unwinding and social interaction. Whether selected for their beauty or practicality, bamboo pergolas serve as welcoming portals to serene outdoor sanctuaries.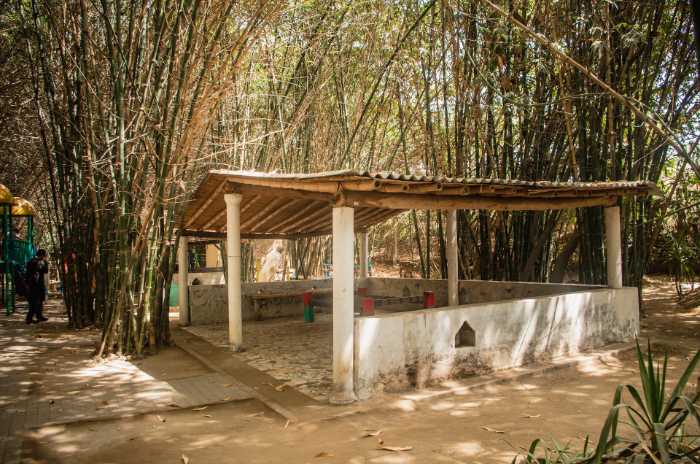 Iron Pergolas
Iron pergolas, crafted mainly from iron or wrought iron, serve as multifaceted outdoor structures. They skillfully merge practicality with visual allure. Historically, these enduring installations have transformed. Originally mere functional entities, they've evolved into opulent outdoor havens. Consequently, they've become a popular selection for enhancing external environments. Wrought iron, celebrated for its sophistication and sturdiness, is frequently chosen for its perennial charm. These structures, despite their resilience, need occasional upkeep. Proactive maintenance, like regular cleaning and applying protective coatings, is vital to ward off rust. This ensures their perpetual allure. In diverse settings, iron pergolas are invaluable. They grace gardens, patios, and alfresco dining zones. Not only do they offer shade, but they also create an enchanting focal point.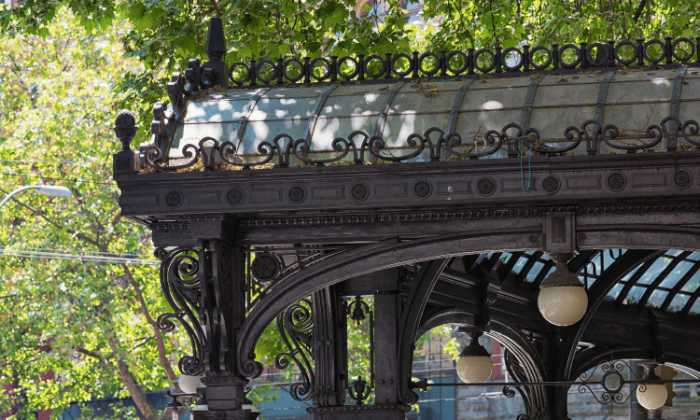 Stone Pergolas
In the realm of pergola designs, a stone pergola truly shines as a classic selection for your residence. It's constructed from sturdy materials like limestone, sandstone, or granite. As a result, natural stone pergolas not only last long but also enhance visual appeal. They blend seamlessly into outdoor environments, standing strong through time. On the other hand, cast stone pergolas offer similar visual delight. They imitate the charm of natural stone while being more budget-friendly.
Moreover, these structures fulfill two purposes. Firstly, they create a shaded haven for relaxation and socializing outdoors. Secondly, they support climbing plants, forming a stunning natural canopy. Stone pergolas range from traditional to contemporary styles. Thus, they accommodate varied architectural preferences, enriching garden and outdoor area aesthetics.
Their robust build guarantees extended life. However, expert installation is crucial for this. Additionally, regular upkeep ensures they remain in immaculate condition. Thanks to customizable features, stone pergolas represent a perfect blend. They combine natural allure with functional practicality in exterior design.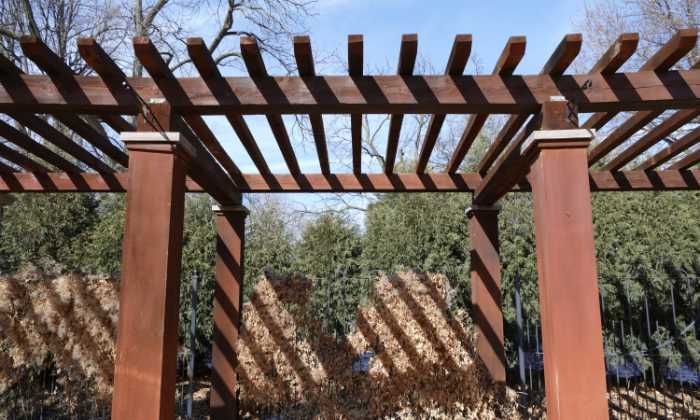 Timber or Wooden Pergolas
Crafted from natural wood, a timber pergola radiates an inviting charm. Its durability contributes to its allure, establishing it as the perfect option for enhancing your outdoor sanctuary. These structures display a plethora of styles. They range from simple, elegant lattice designs to more complex ones adorned with graceful arches and curves. Timber pergolas harmonize with the natural environment, providing both shade and an aesthetic enhancement to gardens and other outdoor spaces. Globally, some timber pergolas exhibit awe-inspiring designs. They stand as sources of inspiration and artistic muses.
Cedarwood Pergolas
Cedarwood pergolas radiate enduring charm, standing as a premier choice for outdoor structures. Their hallmark is the utilization of cedarwood, renowned for its natural resistance to decay and insect damage. Remarkably, cedar pergolas demonstrate resilience, bravely withstanding the most severe outdoor conditions. Offering a delightful canvas for personalization, these pergolas can be customized to reflect your individual taste and outdoor style.
Their main advantage lies in low maintenance, offering you the choice to allow a graceful aging to a silvery tone or maintain their initial beauty through staining or sealing. For the proactive homeowner, cedar pergola kits offer an ideal do-it-yourself solution. These kits come in diverse sizes and designs, accommodating various outdoor requirements, from sunbathing to seeking shade. Cedarwood pergolas, embodying natural allure and sturdiness, elevate your outdoor area into a haven. They not only bring the soothing aroma of cedar but also a promise of enduring sophistication.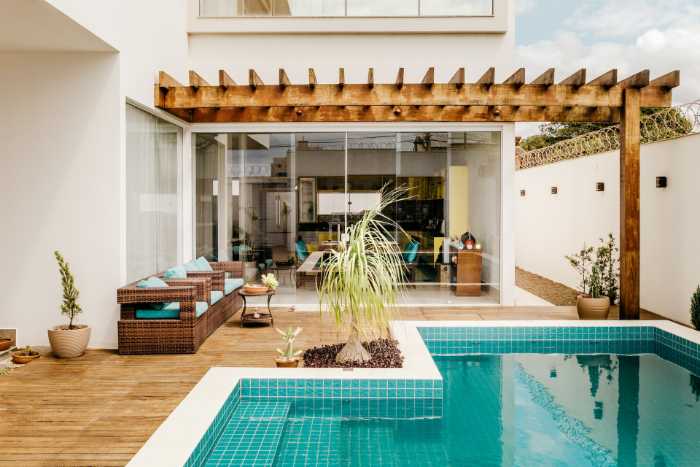 WPC Pergolas
WPC pergolas, a fusion of wood fibers and plastic polymers, stylishly enhance your outdoor spaces. These structures, renowned for durability, withstand weather, decay, and insects effectively. Their versatility shines in varied designs, fitting gardens, patios, or car parks seamlessly. Moreover, you can tailor them to complement your outdoor decor and meet functional needs. They're ideal for shading, crafting cozy seating, or embellishing gardens with elegance.
Furthermore, WPC's commitment to sustainability is noteworthy. By incorporating recycled materials, they reduce traditional wood demand, an eco-conscious choice. Although initially more expensive, their long-term resilience and low maintenance offer cost-effectiveness. Particularly in areas with diverse climates, WPC pergolas prove to be a wise investment. Experience the outdoors anew with WPC pergolas, where beauty meets practicality.

Different Types According To The Pergola Designs
Gable Pergolas
A gable pergola, known for its distinctive triangular or rectangular shape, features peaked roofs that merge style with functionality in outdoor design. The triangular model, boasting two sloping sides converging at a ridge, creates an iconic inverted "V" appearance. Conversely, its rectangular counterpart, with three sides and dual peaks, offers adaptability. These gable pergolas are celebrated for their aesthetic allure. They infuse a hint of classic sophistication into any environment. Moreover, their design isn't just about looks. These structures provide practical advantages, such as enhanced natural airflow, robust stability, and customization options in size, materials, and finishes. They're adept at providing cover, whether for outdoor relaxation areas, patios, decks, or garden elements. Gable pergolas maintain a timeless charm. They significantly elevate both the visual and utilitarian aspects of exterior spaces. As a result, they continue to be a treasured addition for outdoor aficionados and homeowners alike.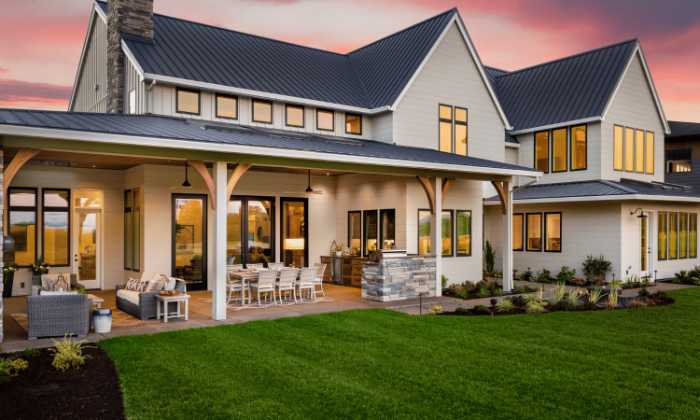 Sail Pergolas
Sail Pergolas, roofed structures with sail-like canopies, embody durability and weather resistance. These elegant shelters are underpinned by robust columns made from wood, metal, or concrete. Notably, they serve a dual function: providing shade and enhancing outdoor beauty. Their adaptability is evident in the variety of shapes and sizes available. This versatility allows them to complement diverse settings, including patios, gardens, and poolside areas. In contrast to standard shade sails, sail pergolas feature supportive posts, offering a lasting and visually striking shade solution. Thus, they forge comfortable and fashionable outdoor living areas. For those prioritizing both practicality and design flair in their external spaces, sail pergolas emerge as a top choice.
Pitched Pergolas
A pitched pergola stands out as a distinctive outdoor structure. It features a sloped or peaked roof, which may manifest as a single slope or a gable design. Crafted from diverse materials, these roofs range from timber to aluminum. Alternatively, retractable fabric covers are also an option. Primarily, pitched pergolas offer shade and shield against the elements. This makes them ideal for outdoor seating, gardens, or even as carports.
The design of the sloping roof is not just for aesthetics. It ensures effective rain runoff and promotes ventilation. As a result, it fosters a comfortable outdoor environment. What truly distinguishes pitched pergolas is their adaptability. They can be either freestanding or attached to existing structures. This flexibility appeals to both homeowners and businesses. Some models of pitched pergolas even feature varied roof pitches, enhancing their design versatility.
In conclusion, a pitched pergola is more than just an outdoor structure. It's a blend of style and functionality. Its versatility and aesthetic appeal make it a favored choice for enriching diverse outdoor areas.
Open-top Pergolas
An open-top pergola transforms outdoor areas. It provides shade, enhancing your garden or patio's ambiance. This structure boasts an open roof design. Consequently, it allows filtered sunlight, ensuring a well-lit space. Additionally, it promotes air circulation, a key feature for comfort.
Moreover, these pergolas offer customization options. You can adorn them with climbing plants, vines, or fabric canopies. Furthermore, they're available in diverse materials, including wood, aluminum, or vinyl. This versatility caters to various aesthetic preferences.
Furthermore, these structures require minimal upkeep. They can also be upgraded with additional features. For instance, retractable canopies and integrated lighting are options. These upgrades are perfect for evening enjoyment.
Ultimately, open-top pergolas are a favored choice for outdoor living spaces. They masterfully balance sunlight and shade. Moreover, they add both beauty and functionality to any setting.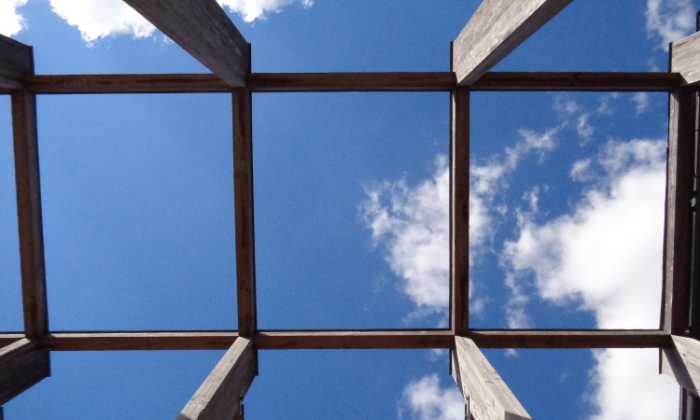 Freestanding Pergolas
A freestanding pergola stands as an independent structure, casting shade and enhancing the visual charm of outdoor areas such as gardens, patios, or decks. In contrast to attached pergolas, which link to a building, these structures boast autonomy. They typically feature vertical posts or columns. These elements uphold an open roof framework, ripe for customization. Options include wooden slats, fabric canopies, or lattice patterns, offering partial shade and a touch of elegance.
Furthermore, freestanding pergolas fulfill various roles. They carve out dedicated outdoor zones for relaxation, dining, or hosting gatherings. Additionally, they provide a supportive haven for climbing flora like vines and blossoms. Installation proves straightforward, with many coming in kit form. They anchor firmly to the ground, utilizing concrete footings or other stabilization techniques.
With an array of styles and materials at your disposal, freestanding pergolas deliver both practical and decorative enhancements. Their versatility makes them a favored option for beautifying gardens and patios.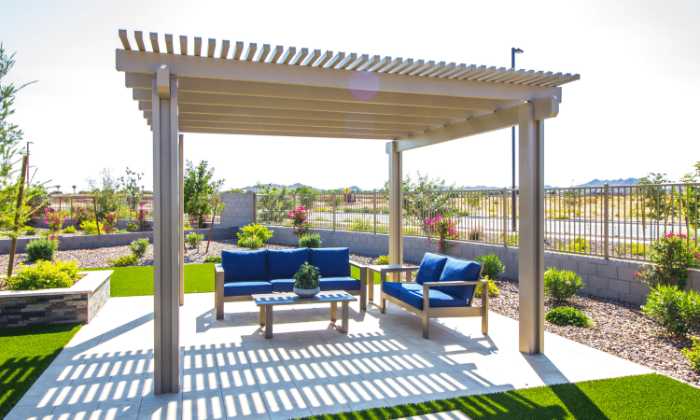 Attached Pergolas
An attached pergola transforms your outdoor area. It's not merely a structure; it becomes an extension of your living space. These elegant constructs affix to your home. They provide shade, architectural allure, and a comfortable setting for various activities. Moreover, they can be seamlessly integrated with your home. They extend from decks, patios, or entryways, enhancing your exterior. The charm of these pergolas lies in their adaptability and customization opportunities.
Furthermore, they are available in diverse designs and materials. You can choose from classic wood, low-maintenance vinyl, or sturdy metal. Additionally, nature can play a pivotal role. Allow climbing plants to embellish your pergola, creating a natural aesthetic. Whether you desire a cozy outdoor dining area, a peaceful living space, or a picturesque outdoor kitchen, attached pergolas provide the ideal fusion of utility and elegance. Therefore, when contemplating an addition, ensure it aligns with your specific requirements and aesthetic preferences. By doing so, you create an inviting outdoor sanctuary at your very doorstep.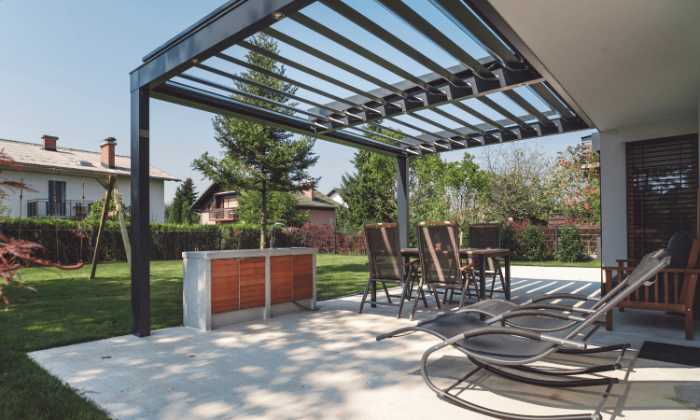 Arched Pergolas
The arched pergola, a stunning garden feature, exudes elegance with its curvaceous form. These multifaceted structures, crafted from wood, metal, or plastic, each present distinct benefits and limitations. Wood boasts durability, yet risks decay. Conversely, metal may succumb to rust, and plastic, despite its lightness, lacks the endurance of its counterparts. Arched pergolas shine, enhancing patios and gardens with sophistication.
Moreover, they offer much-needed shade and support for climbing plants like ivy and vines. With a plethora of sizes, materials, and personalization choices, they reinvent outdoor spaces into stylish, functional sanctuaries. Online resources provide ample inspiration, aiding in the customization of your pergola. Whether it's a garden arch, a cozy nook, or a night-time haven with LED lighting, arched pergolas enchantingly transform any outdoor setting.
Louvered Pergolas
A louvered pergola stands as a multifaceted outdoor fixture, masterfully merging practicality with elegance. Crafted from enduring materials like robust aluminum, its roof is ingeniously adaptable, featuring motor-driven louvers. These louvers effortlessly pivot to usher in sunlight's gentle touch and fresh breezes. Alternatively, they close to offer a cool, shaded haven or a shield against sudden rain. Each pergola is customizable, perfectly aligning with your distinctive outdoor area and stylistic choices. This makes them an ideal enhancement for diverse settings.
Moreover, their sturdy design withstands even the most severe weather conditions. They remain unyielding, facing down substantial snowfall and vigorous winds. In contrast to conventional pergolas with static beams, louvered variants demonstrate superior adaptability. They allow for exact control over your exterior ambiance. Whether adorning a backyard, patio, garden, or commercial locales, these pergolas amplify comfort and visual appeal. They forge a welcoming retreat, cherished by all who visit.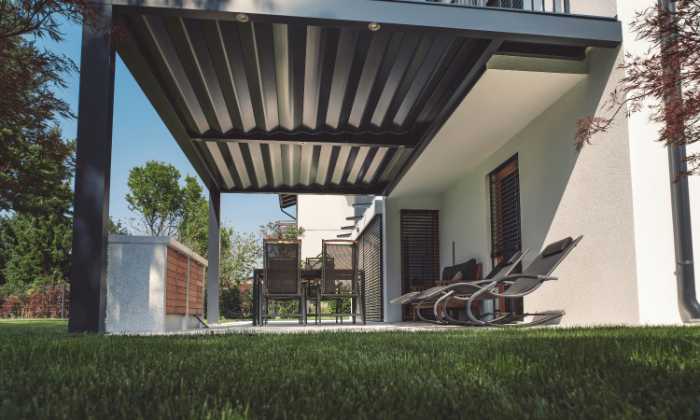 Awning Pergolas
Awning Pergolas present an ideal outdoor solution. They skillfully blend retractable awning convenience with pergola elegance. These structures deliver shade and shelter from weather elements, enhancing outdoor comfort. Featuring robust frames, they boast retractable fabric canopies. Consequently, you gain control over sunlight exposure. This adaptability allows for a personalized outdoor ambiance. Moreover, awning pergolas come in various sizes, colors, and designs. Their stability and aesthetic appeal are noteworthy. To ensure their durability, regular upkeep and expert installation are key. Opting for awning pergolas elevates your outdoor living space significantly.
CNC-cut Pergolas
CNC-cut pergolas embody the forefront of outdoor architecture. They harness advanced CNC (Computer Numerical Control) technology, ensuring each structure is meticulously crafted. This results in a harmonious fusion of precision and personalization. With such technology at your disposal, you'll experience unmatched accuracy. Additionally, it empowers you to realize your distinct design visions. These structures are not mere providers of shade. Instead, they transform into striking centerpieces in diverse outdoor environments. Think of spaces like patios or garden centers. Their versatility is their strongest attribute, enabling seamless adaptation to various locations and functions. Moreover, you've got the option to select from multiple robust materials. This choice guarantees enduring quality and reduces the need for frequent upkeep.
Retractable Pergolas
Revolutionize your outdoor experience with retractable pergolas. These dynamic structures blend shelter and open-air freedom seamlessly. Supported by robust aluminum or metal frames, they feature retractable fabric roofs. These roofs elegantly protect against rain and the sun's harsh rays. Are you seeking a peaceful garden retreat or a vibrant entertaining area? Retractable pergolas allow you to shape your environment to your liking. Options vary from manual to automated motorization. Consequently, customizing your shade is a breeze, even with smartphone applications. Perfect for patios, decks, and serene garden nooks, their diverse designs ensure a match for your distinct vision. Embrace the essence of outdoor living with these pergolas. They are your gateway to comfort and climate control, amidst nature's splendor.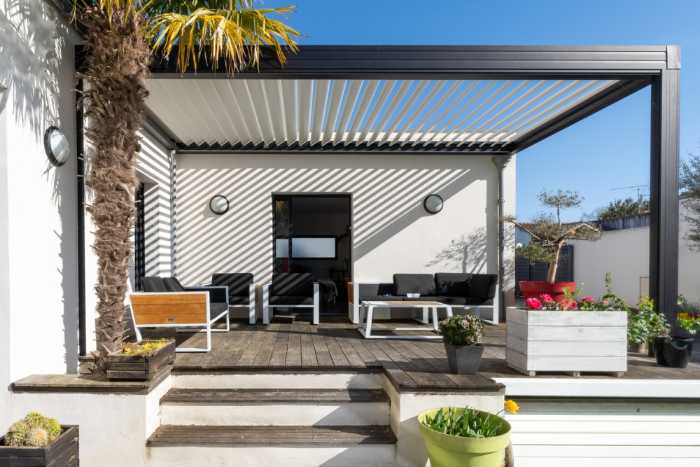 Roofed Pergolas
A roofed pergola, often dubbed a 'pergola with a roof,' embodies a perfect fusion of classic charm and contemporary functionality. Essentially, a pergola is an outdoor structure. It boasts vertical posts or columns. These support an open lattice or crossbeam roof. When this lattice is decked with a solid cover, crafted from wood, fabric, or glass, it evolves into a roofed pergola. Ingeniously, this design offers a sanctuary from sun, rain, and other elements. Meanwhile, it maintains the captivating feel of an alfresco area.
Furthermore, roofed pergolas act as multifaceted enhancements to your outdoor living zones. They provide a shaded haven for relaxation, meals, and social gatherings. Additionally, they serve as a backdrop for nature's artistry, adorned with climbing plants. With a myriad of materials, designs, and personalization choices, these pergolas present a chic answer. They ingeniously blend the aesthetics of a pergola with the functionality of a roof. Hence, they create alluring, sheltered outdoor spaces, perfect for a variety of activities.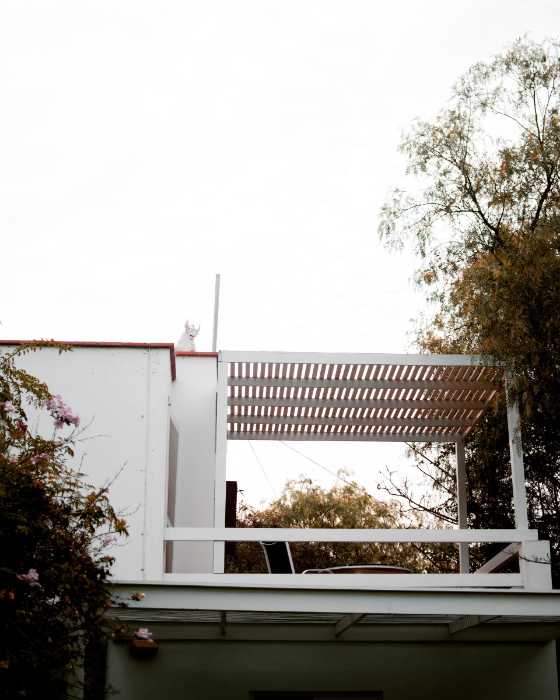 Slanted Pergolas
A slanted pergola stands out as a distinct outdoor structure. Its sloping roof design not only ensures functionality but also elevates visual appeal. Moreover, these pergolas serve multiple purposes. They create shade and introduce an extraordinary architectural element to your outdoor area. Furthermore, their designs vary extensively. You'll find them ranging from freestanding to attached structures. Additionally, the slope's degree is adjustable, catering to your specific tastes. Importantly, slanted pergolas aren't just visually stunning. They're incredibly practical. Their angled roofs efficiently channel rainwater away. This feature not only enhances durability but also supports climbing plants. Thus, it adds both beauty and extra shade. Above all, these structures are customizable and require minimal upkeep. Consequently, slanted pergolas present a versatile option. They significantly improve your outdoor living space by merging aesthetics with utility effortlessly.
Asian Pergolas
The Asian pergola distinguishes itself with a unique, curved wooden roof. This element echoes traditional Asian architectural styles. They are masterfully constructed using natural substances such as bamboo or wood. These pergolas frequently adorn landscapes across Asian nations, including India, Pakistan, and Bangladesh. In India, they are known as "chhattri." They perform a dual function, providing shade and elevating the aesthetic of residences and gardens. Asian pergolas represent more than mere outdoor structures. They are indeed manifestations of artistic flair, integrating diverse Asian design elements.
These structures showcase a variety of intricate carvings. Additionally, they feature sloping roofs and elegant wooden lattice work. Their sophistication and cultural depth are unmistakable. Some even take inspiration from Zen gardens, symbolizing simplicity and equilibrium. Wisteria and similar climbing plants are often woven into these pergolas, forming a natural canopy. Embracing earthly color schemes, ornate hardware, and privacy elements, Asian pergolas craft a tranquil atmosphere. They are versatile enhancements for gardens and outdoor areas, harmonizing effortlessly with both nature and cultural aspects.
Cantilever Pergolas
A cantilever pergola represents a fashionable addition to outdoor settings, renowned for its distinctive design and practical advantages. These innovative structures, unlike their traditional counterparts, feature a horizontal beam. Remarkably, it extends outward without needing extra support columns. This design choice yields an open, visually captivating outdoor area. These pergolas are crafted from robust materials like aluminum, wood, or steel. Consequently, they provide substantial shade and shelter. They're perfect for crafting cozy, shaded zones in gardens or on terraces. You'll find their modern, chic appearance harmonizes with various architectural styles and landscape designs. Moreover, you can tailor these pergolas in size, shape, and finishes to reflect your personal taste. While their price fluctuates based on materials and characteristics, their adaptability and customization possibilities make them a favored option. If you're in search of a distinctive, efficient outdoor living space, cantilever pergolas are an excellent choice.
Canvas Pergolas
A canvas pergola is a standout in outdoor living enhancements, known for its versatility. It offers shade and style, enhancing patios and backyards with ease. Uniquely, this structure overcomes seasonal challenges. It endures gracefully, even during rainfall. Unlike aluminum or wooden alternatives, canvas pergolas are resistant to weather wear. They feature waterproof and sun-resistant materials, perfect for all weather conditions. Additionally, they stand strong against gusty winds.
Furthermore, these outdoor marvels combine a framework of wood, metal, or vinyl with a canvas canopy. This blend results in both functionality and aesthetic appeal. The canvas covers come in various colors and patterns, allowing for customized décor. Remarkably durable, they promise lasting enjoyment in gardens, patios, or any outdoor seating area. Whether you're seeking shade or hosting stylish gatherings, canvas pergolas enhance outdoor experiences. They are indeed a sought-after addition, boosting both beauty and utility in outdoor spaces.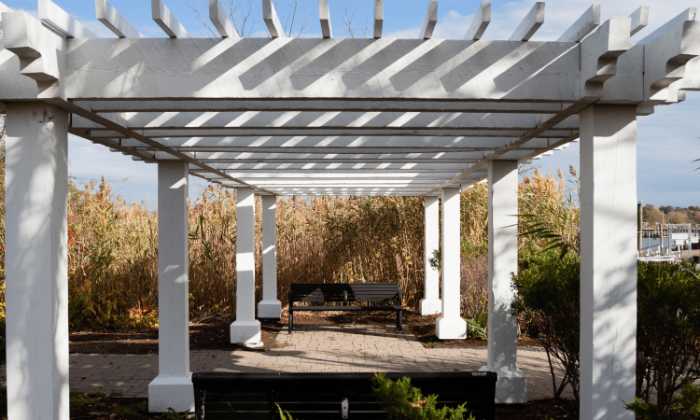 Carport Pergolas
A carport pergola serves multiple purposes. It elegantly combines the practicality of a carport with the allure of a pergola. This structure acts as a fashionable shelter for your vehicles. It protects them from weather elements such as rain, sun, and snow. Additionally, it enhances your property's architectural appeal. Moreover, these adaptable structures vary in design. Their range extends from simple and practical to elaborate and ornate. Consequently, you're guaranteed to find one that complements your home's style.
When deliberating on a carport pergola, consider several factors. First, think about the material selection. Then, contemplate its placement within your property. Lastly, don't overlook any necessary permits. The cost of a carport pergola can fluctuate. This variance is due to different materials and customization choices. Therefore, it's crucial to balance your preferences with your financial plan. In conclusion, a carport pergola is an inventive solution. It not only safeguards your vehicles but also augments your property's visual appeal. This addition is both practical and aesthetically pleasing for your home.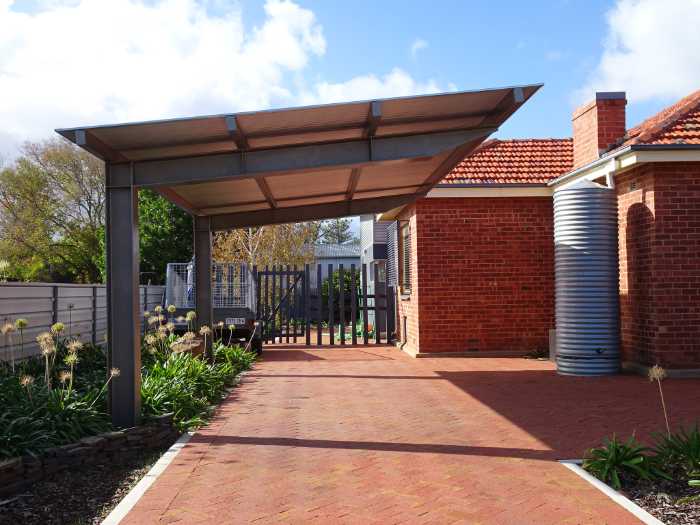 Composite Pergolas 
Crafting a composite pergola is an art, melding various materials such as wood fibers and plastic. This fusion creates an unparalleled outdoor structure, imbued with the strengths of both elements. Notably, these pergolas boast remarkable endurance. They are impervious to rot, decay, and splintering, promising longevity for your outdoor haven. What truly distinguishes them is the minimal upkeep they require. You'll be relieved from the burdens of frequent staining or sealing.
Moreover, these pergolas are available in diverse designs, featuring woodgrain finishes. They skillfully replicate wood's organic allure, all the while abolishing the need for constant care. Additionally, some models are eco-friendly, utilizing recycled materials. These structures offer both shade and refuge, ideal for social events or peaceful solitude outdoors. For those who love DIY projects, composite pergola kits are a breeze. They simplify the assembly process and allow for personal touches. It's important to note the difference between composite pergolas and WPC (Wood-Plastic Composite) pergolas. The former presents a unique blend, harmonizing the aesthetic charm of wood with the sturdiness of plastic. Their composition varies greatly, surpassing the limitations of wood and plastic.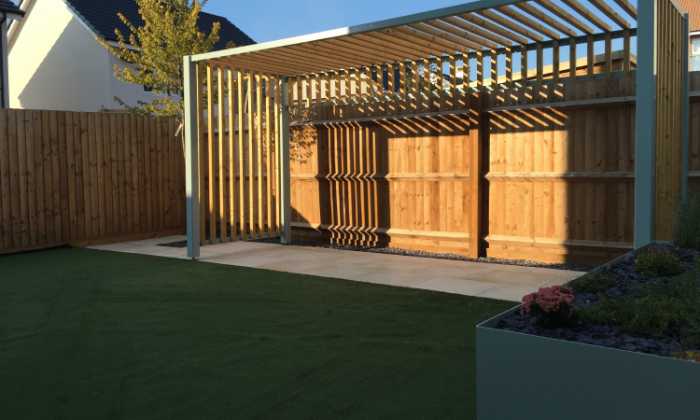 Covered Pergolas
Covered pergolas, embodying the essence of both traditional pergolas and covered patios, present a harmonious union of functionality and aesthetics. These open-air sanctuaries boast a framework composed of posts and crossbeams. They are constructed from diverse materials, such as wood, metal, or vinyl. A key characteristic is the inclusion of a roof or canopy, which distinguishes them. The roofed feature creates a shaded retreat, simultaneously offering protection from unpredictable weather patterns. It shields from both the intense sun and the gentlest of rains. Furthermore, these structures provide more than mere protection. They significantly enhance your outdoor living space, thus elevating your landscape's overall allure.
Moreover, covered pergolas are renowned for their adaptability. This flexibility allows for customization in design, roofing materials, and even additional elements like curtains or screens. They could potentially increase your home's market value, serving as a foundation for nature's growth. When choosing a covered pergola, consider several critical factors. These include material, size, style, and adherence to local regulations. Regular upkeep is essential to maintain their lasting beauty. In summary, covered pergolas represent the pinnacle of outdoor elegance. They offer a seamless blend of beauty and utility, enriching the outdoor living experience.
Curved Pergolas
Imagine a curved pergola, a beautifully arched outdoor structure. It elegantly serves various functions. These additions, incredibly versatile, provide shade for relaxation, dining, or outdoor activities. Additionally, they significantly enhance your outdoor space's aesthetic appeal. Moreover, they're fantastic for supporting climbing plants, creating a lush, green canopy. You can craft curved pergolas from diverse materials like wood, metal, vinyl, or composite materials. This choice allows you to tailor them to your aesthetic preferences and maintenance requirements. What makes them stand out is their unique design. It adds sophistication and a distinct flair to your outdoor area. Are you searching for a cozy retreat? Perhaps a spot for your climbing plants? Or maybe a stunning focal point? In any case, a curved pergola could be the ideal enhancement for your outdoor living space.
Door Pergolas
A door pergola, a charming and functional addition, enhances any entrance or doorway. Crafted with columns, its roof features beams and rafters. This structure fulfills dual roles: it aesthetically enhances while providing practical utility. Significantly, door pergolas offer respite from sun and rain. They create a welcoming entryway. Additionally, they support the growth of lush climbing plants, such as vines. The diversity in design, material, and customization options is noteworthy. Consequently, door pergolas can harmonize with any architectural style. They stand apart from other outdoor structures like gazebos or trellises. Their primary purpose is to adorn and shelter entrances, thus elevating curb appeal. Ultimately, door pergolas transform doorways into inviting, stylish, and functional spaces.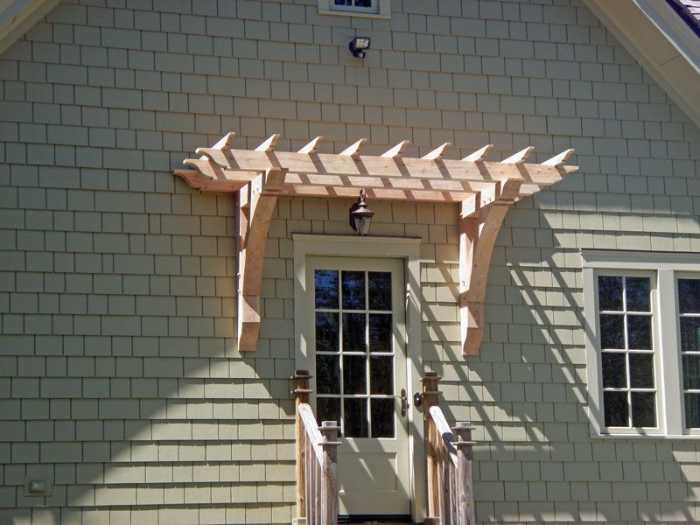 Floating Pergolas
Floating pergolas captivate with their blend of style and practicality. They're designed to seem as though they're gracefully hovering above the ground or water. This creates a striking, modern outdoor area. You can choose from a variety of materials for these pergolas, like wood, metal, or composites. It allows you to customize their look and resilience to suit your tastes. Ideally placed over pools, ponds, or lakes, floating pergolas also enhance gardens or decks.
They're great for providing shade, defining outdoor spaces, and adding a touch of elegance to their environments. Similar to their traditional counterparts, they need some upkeep. This is particularly true for wooden ones, which require frequent cleaning and sealing. This maintenance ensures their beauty and durability. So, if you've got a small yard or a passion for unique outdoor designs, floating pergolas are a fantastic choice. They offer both a visually stunning element and practical functionality to your area.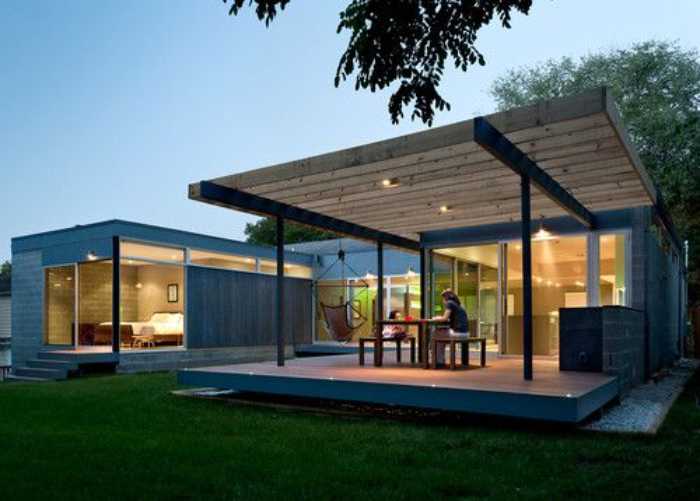 Hexagon Pergolas
Hexagon pergolas are unique among various pergola types. They captivate as outdoor structures, skillfully blending aesthetics with functionality. Their six-sided design imparts a unique charm to gardens and open spaces. Moreover, they offer a delightful mix of shade and sunlight. Due to their versatility, these pergolas are perfect for relaxation, dining, or hosting social events. Their striking presence makes them visual centerpieces in outdoor areas. Additionally, climbing plants can enhance their allure. This also contributes to increased shade. Although construction might be complex, and costs can fluctuate, DIY plans are available for the enthusiastic craftsman.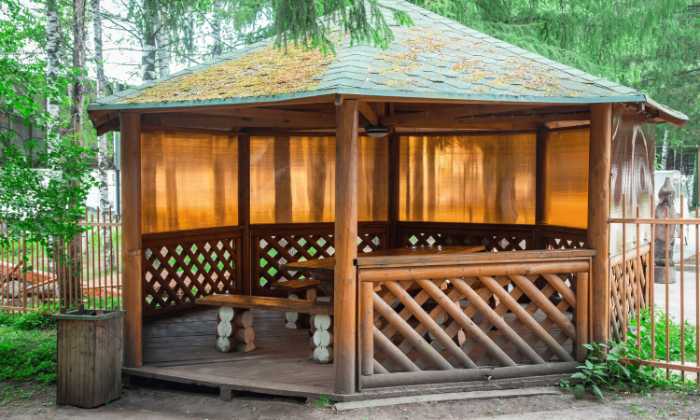 Italian Pergolas
Imagine a wooden masterpiece, an Italian pergola, with its flat roof and discreet gutter. This creation draws inspiration from the refined Italian aesthetic. These pergolas, sometimes crafted in metal, rise with vertical columns. They support a grid-like roof, casting a play of light and shadow below. Functioning as both art and utility, they offer cool shade for various outdoor activities. Whether it's for gatherings, dining, or just tranquil relaxation, they're perfect. Historically, these structures nurtured grapevines in vineyards. Nowadays, modern designs are embellished with climbing plants and flowers. This enhances their aesthetic allure. You'll find them in diverse styles and sizes. They range from rustic simplicity to elaborate grandeur. Italian pergolas continue to exude Mediterranean charisma. They masterfully combine practicality with everlasting elegance.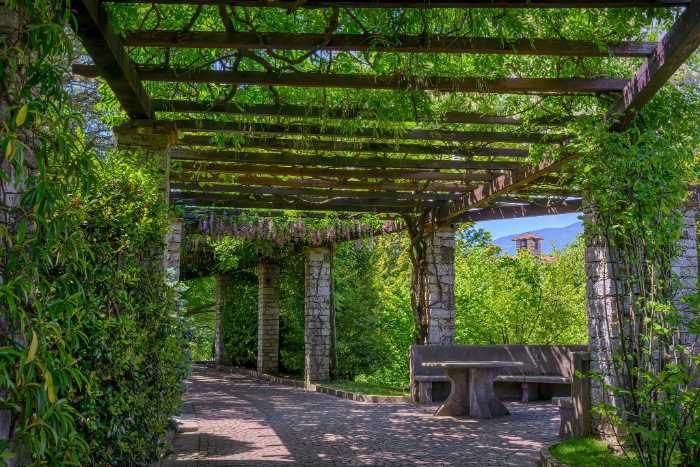 Lattice Pergolas
A lattice pergola stands out as an enchanting outdoor structure, merging beauty with utility. It's crafted either from wood or metal, featuring posts and beams. Its hallmark is the lattice roof, a complex network of intersecting slats. This distinctive structure projects speckled sunlight beneath, creating a pleasant atmosphere. Simultaneously, it offers moderate shade. Particularly in regions desiring sun protection, lattice pergolas are ideal. They don't compromise on natural illumination or airflow. Moreover, these structures are customizable. Their size, shape, and design can vary to suit individual tastes. Often, they become a backdrop for climbing flora, such as vines and roses. Nonetheless, it's crucial to remember maintenance. To ensure their durability, periodic cleaning and refinishing are necessary. Remarkably versatile, lattice pergolas adorn gardens and patios. They can even serve as carports. By blending elegance with practicality, they have become a popular choice for outdoor embellishment.
Pallet Pergolas
Behold the pallet pergola, a marvel of frugality in outdoor decor. This structure, crafted ingeniously from pallets, fuses rustic allure with financial prudence. In contrast to standard materials, pallets shine for their cost-effectiveness. Additionally, they possess a unique ability to metamorphose your backyard into a captivating sanctuary. To construct a complete pergola, you may need multiple pallets. However, the outcome is a visually stunning haven, offering shade and aesthetic delight. Significantly, pallets differ from treated lumber due to their rot resistance. Thus, they alleviate typical maintenance worries.
Waterproof Pergolas
Waterproof pergolas are the epitome of resilience among their kind. Meticulously designed, they resist extreme weather conditions. Their installation is straightforward, and they require little upkeep. Additionally, they robustly withstand UV rays, wind, and rain. More than mere protectors, these structures act as steadfast shields for your outdoor sanctuary. They valiantly defend against storms, ensuring the safety of your beloved pool area with firm determination. You have the liberty to choose from a variety of materials, including vinyl, aluminum, and wood. This selection enables you to create the perfect waterproof oasis.
Conversely, traditional pergolas, known for their open lattice design, are not as effective in waterproofing. However, innovative solutions are plentiful. Options range from versatile covers to bioclimatic designs, and from specialized canopies to waterproof treatments. In the world of pergolas, waterproofing is a transformative process. It allows you to fully enjoy nature's splendor without any hindrances.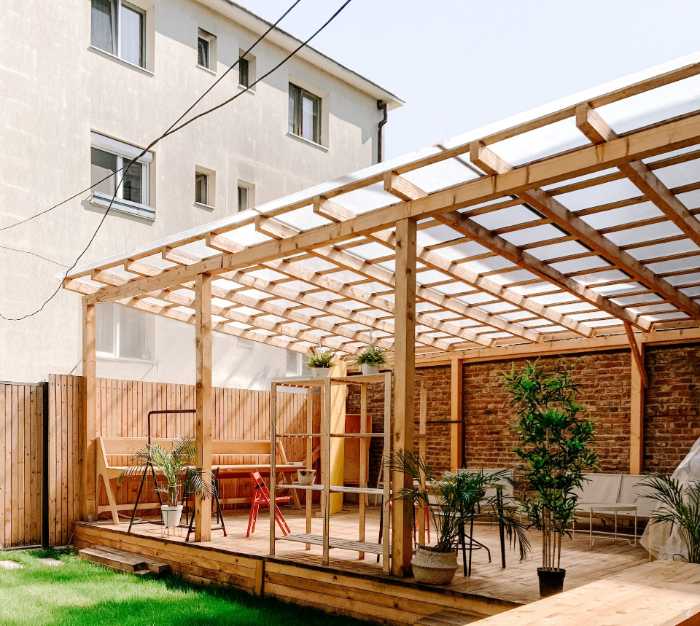 Solar Panel Pergolas
Solar panel pergolas blend sustainability with style in a unique way. These structures ingeniously integrate solar panels, maintaining the timeless charm of traditional pergolas. In essence, they're crafted to offer shade and generate renewable energy. They not only diminish your electricity expenses, but also augment the value of your property. Simultaneously, they reduce your ecological footprint. A key feature of these pergolas is their customizable design. This flexibility allows you to enhance energy production and align with your aesthetic preferences. Whether for home or business settings, these eco-friendly structures provide a novel means to utilize solar energy. Additionally, they enhance your outdoor areas. This combination of practicality and sophistication makes them a top choice for those valuing both utility and elegance.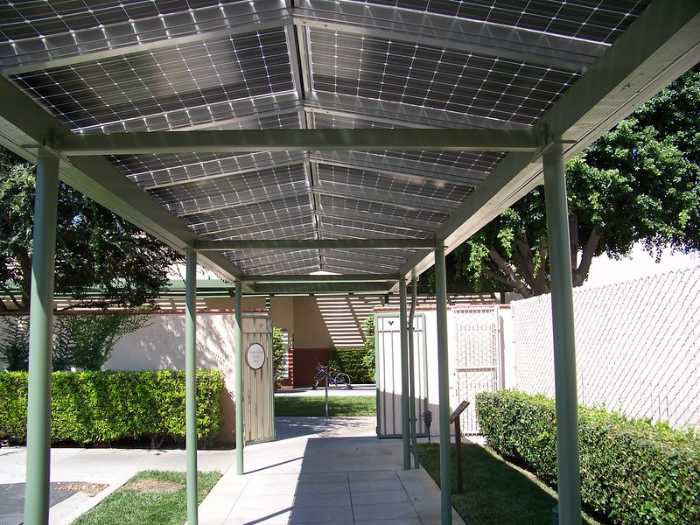 Vine Pergolas
A vine pergola transforms any garden into an enchanting oasis, melding aesthetic appeal with practicality. It's an expertly crafted structure, purpose-built for showcasing climbing flora. This includes vines and plants which bestow shade, seclusion, and a stroke of nature's artistry upon your outdoor haven. Envision various species like the vibrant Bougainvillea, majestic Royal Trumpet Vine, and elegant Wisteria. These plants can be meticulously nurtured to cascade over the pergolas, forging a breathtaking tableau. Tending to them is effortlessly manageable, necessitating only sporadic pruning. This ensures both shape retention and growth regulation. Furthermore, certain vine pergolas carry a historical legacy, particularly those integral to traditional grape cultivation. Their benefits extend beyond mere shading; they beckon pollinators and suffuse the surroundings with delightful scents. Whether adorning vineyards or enhancing personal backyards, vine pergolas represent a symphony of nature and craftsmanship.
Wall Mount Pergolas
Wall-mounted pergolas transform your outdoor area, offering shade, beauty, and practicality. These adaptable structures easily connect to existing walls or frameworks. Consequently, they create a semi-shaded space ideal for various pursuits such as dining, unwinding, or gardening. Pergolas are available in diverse designs and materials. These range from wood to metal and vinyl. Many include retractable canopies or adjustable louvers, optimizing sunlight management. Professional installation is recommended. This ensures a firm and safe attachment. Additionally, wall-mounted pergolas not only provide relief from the sun but also amplify your outdoor décor. They may even boost your property's market value. Maintenance requirements differ based on material. For instance, wooden pergolas need periodic staining or sealing. On the other hand, metal and vinyl options are notably easier to upkeep.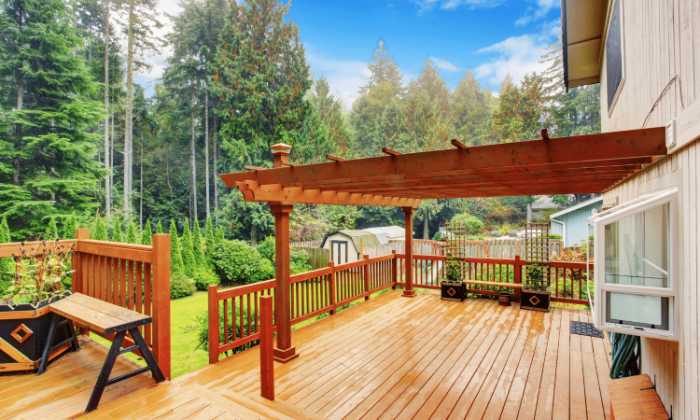 Related: 33 Creative Backyard And Outdoor Gazebo Ideas
Pergola Is An Excellent Addition To Any House
With so many types of pergolas, you can choose the style that best suits you and your family's needs. However, if you're considering adding a pergola to your home, you'll want to consider a few things.
First, what do you plan to use it for? You can use a pergola for many different purposes and as an extension of your home's structure. Here are the most common uses:
Plants—if you're looking for more privacy or shade, consider planting some plants in the space between your house and the pergola. You can also use the space beneath your pergola as an opportunity to grow food or create an herb garden.
Animals—in addition to using it for plantings, a pergola can also function as an area where pets can roam safely outside without posing any threat to passersby on sidewalks or streets nearby. That also allows pets access to their personal space. This is where they won't get tangled up in leash cords or hurt themselves on fences surrounding larger yards behind houses with less fencing around them (such as all homes built before 1980).
Activities—a pergola is also great because it provides ample room for children. It helps them to play games like hide-and-seek while protecting them from sun exposure. That is by overhead coverings that designers make out of material like cloth instead of plastic. That might melt under direct sunlight exposure after prolonged outdoor periods without adequate protection (such as sunscreen lotion applied beforehand).
Conclusion
Pergolas are an excellent addition to any home. With so many different types of pergolas, you can choose the type that best suits you and your family's needs. Pergolas are great to make your patio or backyard more comfortable and enjoyable during the year's warmer months. They are easy to install and require little maintenance once they're up.