Introduction
Wooden pergolas embody an exquisite mix of elegance and functionality. They redefine outdoor areas, turning them into captivating retreats. Crafted from natural materials, these rustic constructs harmonize with gardens and landscapes. Moreover, they offer a shaded refuge from the sun's intensity. Adorned with verdant vines or customized to your taste, wooden pergolas enhance your environment. Notably, they also contribute enduring value to your property. Let's embark on a journey together. We'll delve into the magnetism of wood pergolas, ranging from their aesthetic allure to practical benefits. This exploration will surely ignite your outdoor design dreams.
The Beauty of Wooden Pergolas
Wooden pergolas are a masterpiece, melding aesthetics with practicality. These structures enchant any outdoor setting with their natural elegance. They infuse warmth and rustic charm, harmoniously blending with garden or outdoor designs. Additionally, wooden pergolas offer a sun-shielding haven. They create cool, shaded areas perfect for dining, relaxation, or secluded moments. Furthermore, their versatility supports climbing plants like vines and ivy. This enhances their beauty and provides extra shade. Impressively, they boost property value by crafting inviting outdoor spaces. Potential buyers find these spaces appealing. High-quality wood ensures pergolas withstand time, offering lasting beauty and comfort. Customization through painting or staining aligns them with your color preferences. Thus, a wooden pergola becomes an ideal choice for shade, style, and timeless relaxation or entertainment.
The aesthetic charm of wood transcends pergolas, revealing multiple exceptional features. Its warm, rich tones infuse spaces with a welcoming aura, whether indoors or outdoors. This fosters coziness and tranquility. Wood's adaptability allows diverse forms and finishes. Its possibilities range from traditional to contemporary designs. Moreover, the natural allure of wood with its unique grain, textures, and colors enhances any structure's visual appeal. Each wood type meets various architectural needs. Its innate ability to harmonize with surroundings makes it a prime choice for nature-connected, eco-friendly projects. Additionally, wood significantly influences aesthetic principles like texture, color, balance, unity, and contrast. It contributes to the creation of visually appealing structures. In essence, wood's aesthetic magic crafts inviting, versatile, and visually captivating structures. It integrates seamlessly with nature and architectural surroundings, fostering an enchanting atmosphere.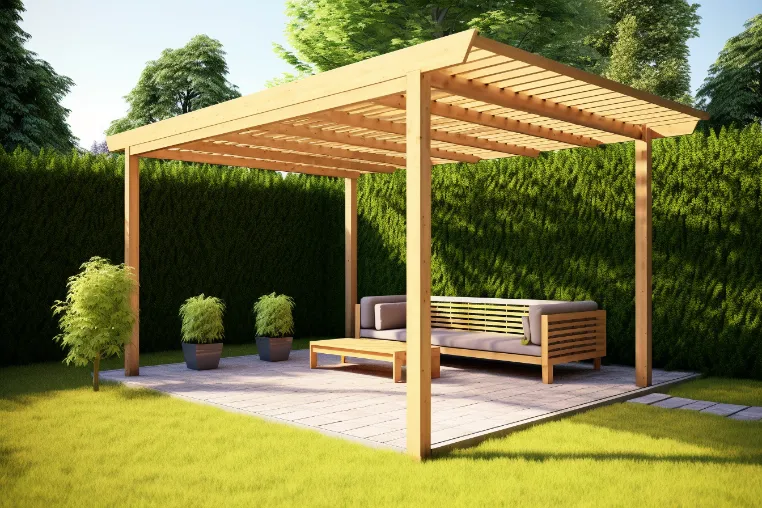 Designing a Wooden Pergola
Designing a wood pergola is an exhilarating venture, demanding meticulous planning and preparation. Initially, envision the ideal location in your outdoor area. Then, create a design that harmoniously integrates aesthetics with functionality. Selecting suitable wood, such as cedar or redwood, is critical for enduring durability and decay resistance. Construction entails establishing a robust foundation. Additionally, follow a comprehensive guide and incorporate custom features like lattice or lighting.
Importantly, verify local regulations before commencing. Regular upkeep is paramount to shield your pergola from the elements. Considerations of size, shape, and placement are vital. They ensure your pergola enhances both your space and lifestyle.
To augment your wood pergola's splendor, think about adding architectural elements. Climbing plants can create a natural canopy, while ornate details offer a classic flair. Opt for high-quality woods like cedar or teak to radiate refinement. A roofed pergola provides shade and fosters a more intimate ambiance. These artistic modifications can metamorphose your pergola into a visually arresting and sophisticated feature. So, inhale deeply, unleash your creativity, and commence your journey. Design a wood pergola that is both functional and a testament to elegance in your outdoor haven.
Inspiration for Wooden Pergolas Designs
In the realm of wood pergola designs, a vast array of inspirations awaits to revitalize your outdoor area. To begin, consider these crucial aspects:
Simple Elegance: Initiate with the ageless charm of straightforward square pergolas for a traditional nuance.
Natural Canopy: Encourage climbing vines to enfold your pergola, forming a stunning, organic canopy.
Endless Possibilities: Transform your garden into a captivating outdoor retreat through diverse, inspiring pergola concepts.
Choice is Yours: Selecting between a free-standing or an attached model, each presents inventive methods to augment your outdoor environment.
Stylish Shade: Beyond aesthetics, pergolas offer refined shade. Delve into ready-made kits, custom-made designs, and various timber selections.
Natural Charm: The application of stained wood slats atop the pergola's roof fosters a distinctive, welcoming external space.
Progressing to design styles
Timeless Beauty: Traditional timber pergolas exhibit detailed craftsmanship and the untouched allure of natural wood.
Modern Edge: For a modern twist, contemporary timber pergolas feature minimalist lines and might integrate elements like polished aluminum.
Cozy Ambiance: Rustic timber pergolas showcase a weathered look with matured or distressed wood, creating a snug and appealing outdoor area.
Personalized Color, Finishes, and Accessories
Embarking on your journey with wood pergolas, keep in mind the potential for individual flair through color, finishes, and accessories:
Color Magic: Opt for a hue that complements your outdoor setting and preferred style, ranging from natural wood shades to striking options like deep blue.
Finishing Touch: Applying stain and sealant to your pergola not only safeguards it but also elevates its appearance, with a variety of stain hues and finishes at your disposal.
Accessorize: Customize your pergola with additions like fairy lights, climbing flora, or outdoor drapes for a snug yet sophisticated setting. Delve into current trends and innovations in pergola design for added inspiration.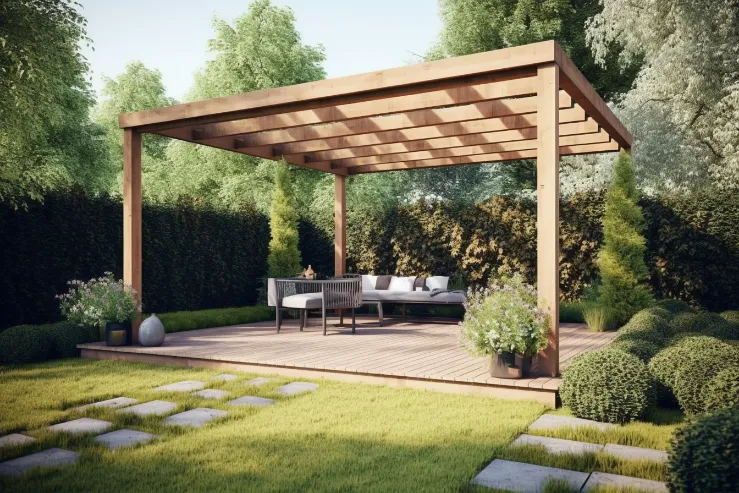 Practical Considerations
Material Selection: Choose sturdy woods such as cedar or redwood. These types resist decay and insect damage, ensuring an extended lifespan for your pergola.
Maintenance: Regular upkeep is crucial for wood pergolas. It's advisable to stain or seal the wood. This protects it from weather elements and preserves its aesthetic appeal.
Location: Select an area that balances sunlight and shade. This should align with your intended use and plans.
Purpose: Clearly determine the pergola's role. It could serve as a shade provider, a support for climbing plants, or a space for outdoor gatherings. This decision will guide its design and attributes.
Planning Permission: Verify with local authorities regarding construction permissions. Not every region requires approval for pergola construction.
Furniture and Accessories: Plan your pergola's dimensions and layout. Consider the furniture and accessories you wish to accommodate.
Proper Care: Conduct routine cleaning and inspections. Timely repairs are essential to prolong the life of your wooden pergola.
Tips on Choosing the Right Type of Wood and Finishes for Longevity
Select the Right Wood: Favor cedar and redwood for their natural resistance to decay and pests. They demand minimal upkeep. Alternatively, pressure-treated pine is budget-friendly and can be well-preserved with staining or sealing.
Proper Finishes: Opt for staining to boost appearance and UV protection. Sealing is crucial to protect against moisture, warping, and decay.
Regular Maintenance: Regular inspections and cleanings are imperative. Reapply finishes as necessary to maintain its protective layer.
Ways to Protect Wood Pergolas from the Elements
Weatherproof Sealant: Use a weatherproof sealant to shield your pergola from excessive moisture, rot, and decay.
Fabric Protectant: If your pergola includes fabric features, apply a fabric protectant. This will defend them against sun damage and rainfall.
Wood Preservers: Employ wood preservers containing biocides and insecticides. They offer protection against insects and fungi.
Regular Maintenance: Maintain your pergola's condition through consistent cleaning, inspections, and immediate repairs of any damages.
Proper Drainage: Ensure adequate drainage around the pergola. This prevents water accumulation and moisture-related issues.
Functional Benefits of Wooden Pergolas
Shade and Sun Protection: Wood pergolas provide a sheltered retreat. They shield you from harmful UV rays. This is essential during various outdoor activities, such as dining and unwinding.
Enhanced Aesthetics: These structures, crafted from wood, elevate the charm of your garden or patio. They add an element of elegance, infusing style into your open-air areas.
Support for Climbing Plants: Pergolas serve a dual purpose. They act as a natural framework for climbing flora. Consequently, they create a more temperate microenvironment and boost visual attractiveness.
Outdoor Living Space: Pergolas expand your outdoor living area. They offer a snug corner for socializing, reading, or simply reveling in nature.
Increased Property Value: Skillfully constructed wooden pergolas raise your home's resale worth. They do so by enhancing curb appeal and adding practical open-air spaces.
Design and Structure: The wooden framework of pergolas, topped with lattice, allows for partial shading. Simultaneously, it preserves an airy ambiance.
Climbing Plants: Certain pergolas accommodate vines and ivy. These plants form a natural shade cover as they flourish.
Customization: Pergolas can be customized to meet your specific requirements. Options include retractable shades, curtains, or solid roofs for more shade and shelter.
Cooling Effect: Natural wood materials remain cooler than synthetic alternatives. They provide a pleasant spot for outdoor leisure.
Aesthetics: Wooden pergolas enhance the visual allure of your outdoor spaces. They ensure that you enjoy the coolness in an aesthetically pleasing setting.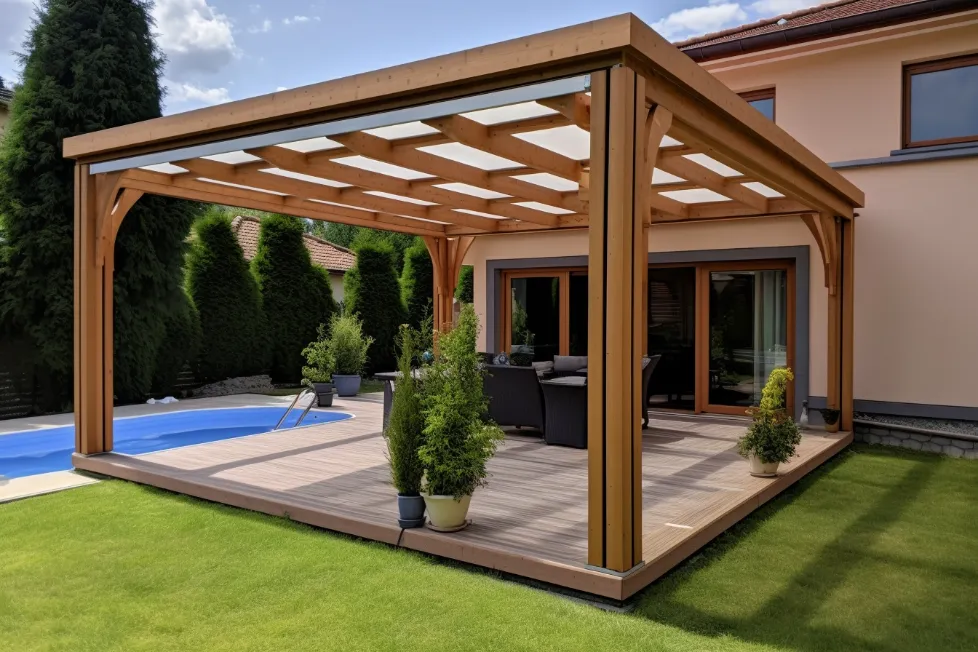 DIY vs. Professional Installation
Comparison between DIY vs. Professional Installation
Cost Considerations: Opting for DIY pergola construction? You'll save money by doing the labor yourself. Conversely, hiring a professional guarantees expert craftsmanship.
Skill and Tools: DIY demands construction knowledge and the right tools. On the other hand, professionals bring invaluable experience and specialized equipment.
Customization: Undertaking the build yourself? It allows for unique design choices. However, professionals can equally customize the pergola to suit your taste.
Time and Effort: DIY requires significant time and effort in planning, building, and upkeep. In contrast, professionals make the entire process more efficient.
Quality and Durability: DIY quality varies, depending on your skills and materials. Meanwhile, professionals offer consistent top-quality results with warranties.
Advantages and Disadvantages of DIY Pergola Construction
Advantages: Embracing DIY? You'll unleash your creativity, cut costs, enjoy personal fulfillment, select your materials, and oversee maintenance.
Disadvantages: However, it's a time-intensive endeavor. It requires specific skills and tools, involves permitting processes, might be less durable, lacks professional guarantees, and material costs can escalate.
Tips on When to Hire a Professional
Complex Design or Structural Needs: Faced with intricate designs or specific structural needs? It's wise to choose professionals.
Permit and Code Compliance: Professionals adeptly navigate permits and ensure your project meets code compliance.
Time and Skill Constraints: Short on time, skills, or tools? Professionals can save you both time and trouble.
Budget Considerations: Sometimes, hiring a pro proves more cost-effective. It avoids the need for expensive tools and materials.
Experience and Expertise: Pros bring their expertise, ensuring a more attractive and long-lasting pergola.
Peace of Mind: Opt for professionals to benefit from warranties and insurance, ensuring a stress-free construction.
Customization: Want a pergola that matches your vision precisely? Professionals can craft it to your exact specifications.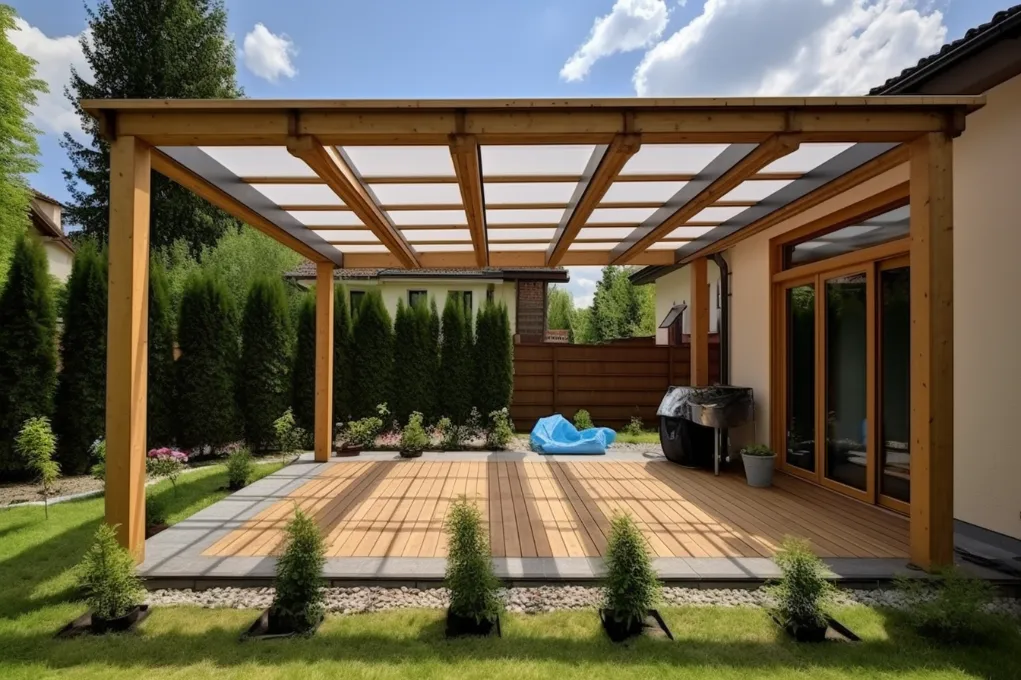 Conclusion
In the world of outdoor design, wooden pergolas are enduring symbols of elegance and practicality. They effortlessly blend with the natural environment, offering shade and serving as platforms for artistic expression. These structures are vital in any outdoor space. As you commence the process of creating and caring for your wood pergola, ponder our shared advice, designs, and practical advantages. Whether you opt for a do-it-yourself approach or consult experts, the sophistication and allure of a skillfully made wood pergola will consistently be a highlight of outdoor beauty. It stands as a tribute to the wonders of nature's premium materials.