Introduction
Gazebos are a terrific and stylish way to add shade, shelter, and style to any outdoor space, like pergolas and pavilions, so check out these creative backyards and outdoor gazebo ideas. They can be used as a focal point in the garden or placed in an inconspicuous corner of your backyard or deck. Gazebos come in many styles and designs, including traditional, contemporary, hybrid, and industrial.
Related: The Ultimate Guide To Pergola And How To Install It
7 Main Outdoor Gazebo Styles
1. Modern Style
Clean lines and minimalistic design characterize the modern style. It's often used for commercial buildings, hotels, restaurants, and other spaces that need to be functional without being too ornate.
You can find modern accessories in many different gazebo ideas, styles, and materials (such as metal or wood), but they all have one thing in common: simplicity. For example, modern gazebos are simple objects with clean forms that fit perfectly into any space and never feel out of place because they're so well-designed.
2. Traditional Style
A traditional style gazebo is built with wood and usually has a rectangular or square shape. The structure's walls are typically made using latticework, while the roof is covered by thatch or wooden shingles. Thatched cottages often inspire the look and feel of these structures in England and Ireland, but you can also see them in other countries such as Australia and New Zealand.
3. Contemporary Style
Contemporary style is a fusion of the past and present. The stylish look combines traditional elements with modern ones to create a diverse living environment that is functional, beautiful, and easy to maintain. Contemporary design elements include clean lines and simple shapes. They can be found in many Gazebo ideas, but they can also be characterized by industrial or rustic touches such as distressed wood or cast iron.
This gazebo lends itself well to smaller spaces since it only takes up a little room. You can use this type of gazebo in many different settings, like backyards, patios, and courtyards. Additionally, this type of gazebo looks excellent if you live near water since it will add an elegant touch to your home's landscape.
4. Hybrid Style
A hybrid style is a combination of two or more styles. It's a nice compromise between traditional and contemporary in that it allows you to incorporate modern elements into your design while maintaining the classic look of your gazebo.
You can use a hybrid style if you want to add flair to your gazebo without completely overhauling its appearance or turning it into something unrecognizable.
5. Portable Gazebo
Portable gazebos are the perfect choice for people who want to enjoy their yard or garden but need more preparation to make a permanent investment. These temporary structures are lightweight and easy to move, allowing you to change the location of your gazebo as required. In addition, they can be set up almost anywhere outdoors—in fact, many people use them for parties and events where they need shade but don't want to risk wind damage from a permanent structure.
Many different portable gazebo ideas and styles are available on the market today. They have aluminum frames with coverings made from marine-grade vinyl that come in various colors and patterns so that you can pick the one that best fits your decorating style. In addition, most portable models will come with several accessories, such as cup holders, floor mats, and large umbrellas, so nothing stops you from immediately enjoying your outdoor space.
6. Cupola Style
Cupola-style gazebos are a great way to add a little flair to your outdoor space. These gazebos are often used for their decorative appeal. They are usually made from wood and have a peaked roof, which gives the structure an almost whimsical appearance. Cupola-style gazebos come in many different styles; some look like domes, others have intricate details on the walls and ceiling, and others still need more decoration.
Depending on your taste and preferences, choose a more decorated cupola-style gazebo or one with less detailed work. Either choice will add character to your backyard retreat.
7. Industrial Style
Industrial style is a bold, rugged look that you can use to create a modern feel. This style often uses metal and wood elements to create industrial space, but other options exist. You can use industrial style to create rustic and modern spaces.
An industrial space should have exposed brick or concrete walls and beams that give off an air of strength and stability. Wood flooring is another popular choice for this type of design because it helps you achieve a rustic look while keeping your room cool during the summer months.
33 Outdoor And Backyard Gazebo Designs
1. Attached Gazebo
This gazebo is one of the best gazebo ideas and designs in the market. It is an extension of the front porch and a standalone structure. It's attached to the side of the house and stretches into the yard, creating a little extra room that doubles as a place for lounging or dining. The ceiling fan keeps things cool even in the summer heat, and the light fixture over each seat adds some extra light when it's dark out. The lush hanging baskets add color and privacy—without worrying about curtains that might blow around in the wind.
2. Freestanding Gazebo Design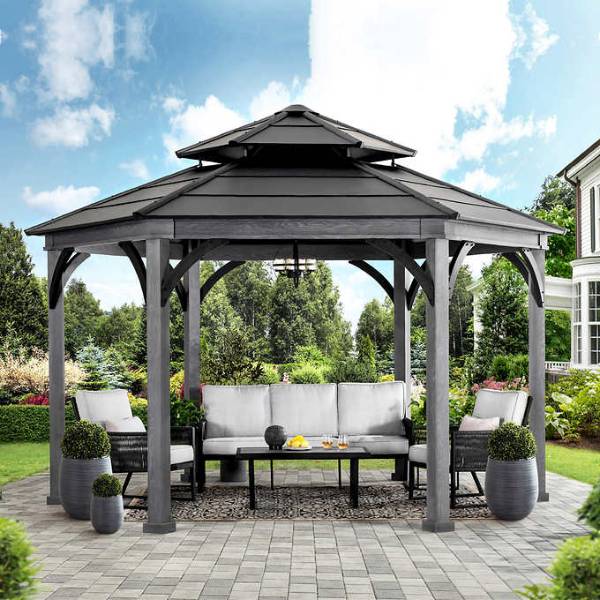 This hexagon-shaped gazebo is a bright spot in a shady grove. Its light gray roof, white-painted finish, and distinctive railing treatment advance the space into view. The hexagon gazebos play off some terrific elements in the landscape. This gazebo's white exterior mirrors the color of hydrangea blooms and variegated plantings, and the wood floor stays in tune with the brick walkway's darker tones.
3. Open-Sided Gazebo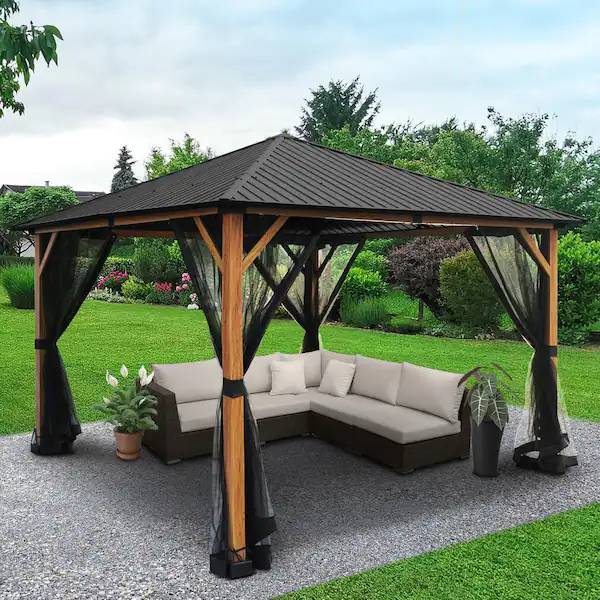 Consider an open-sided gazebo if you're looking for a way to make your outdoor space more open. This design is excellent because it allows light and air to flow through and allows you to close off any of the four sides with curtains or other barriers. While closed-off sides will help you stay out of the sun or rain, open sides are ideal for those who want to feel like their outdoor space is a part of their home—not a separate area that needs you to close it off from the rest of the house.
4. Lattice Gazebo
The Lattice Gazebo is a multisided gazebo with an elegant silhouette and ample proportions. This airy structure anchors a formal garden with its brilliant combination of curved entries, lattice roof and walls, and a center roof gable. Add vertical posts and final details to the frame to give your space a sophisticated style.
5. Patio Gazebo
This patio gazebo is an architectural delight. A prominent entry gable, a remarkable light fixture, and a spacious seating arrangement make this gazebo stand out from the rest. The ample seating arrangement includes cushy upholstered banquettes along the perimeter and a commodious ottoman propping up multiple feet.
6. Do-It-Yourself Gazebo
This stick-built gazebo is perfect for owners to unwind after a long day. It allows them to go outside to relax in a pair of chairs and revel in the burbling water sights and sounds, chirping birds, and passing-through butterflies. They rise from a two-tiered platform cantilevered from the neighboring stepped-up patio; the entire structure sports an open-air design, optimizing sunlight and breezes that are sometimes neighboring trees block.
7. Farmhouse Gazebo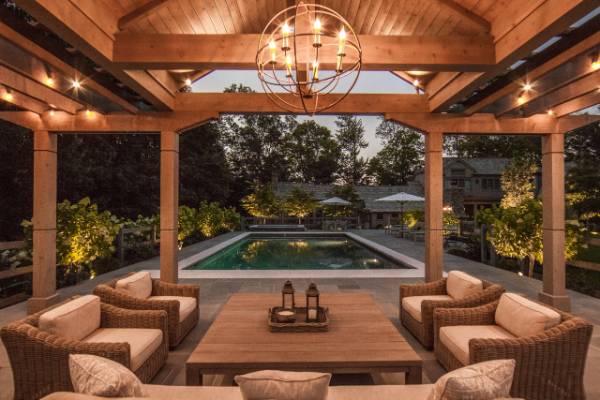 Regarding gazebos, the most successful designs fit the home settings and stay in tune with the architecture of the houses they serve. This farmhouse gazebo takes on the form of a small farmhouse with its board-and-batten siding and tin roof mirroring elements of the primary place. Thanks to the screened windows and doors, this confined gazebo expands the usage of the patio.
8. Bell-Shaped Gazebo Roof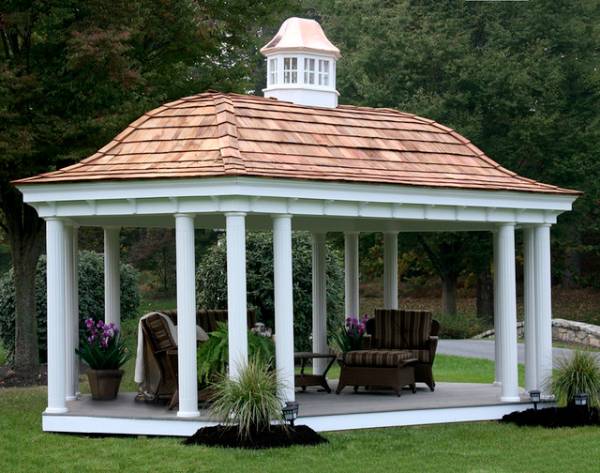 Consider custom roofing when planning your backyard gazebo and choosing one of the gazebo ideas. A bell-shaped roof with corbel trim can add individual style to your gazebo, and it's a great way to set your structure apart from others. However, this type of roofing is also more expensive than standard gable roofs.
The gazebo's location is another cost factor. For example, a secluded setting, mainly a privacy provider, may also restrict the access of the construction vehicles and therefore require some materials to be carried to the building site by workers — which adds more cost to the construction expense.
9. Poolside Gazebo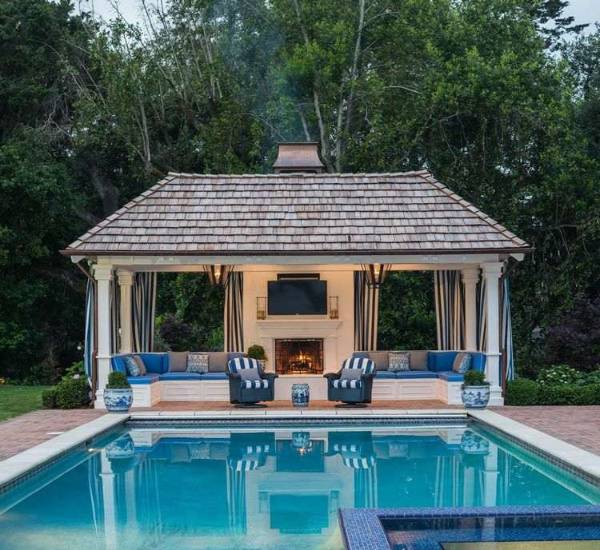 Your neighborhood will envy you for this country French-style gazebo that sets a new standard for outdoor entertaining. This gazebo has a clay-tile roof and rough-brick walls that give it a striking look, while its spacious design lets you host casual gatherings, cocktail parties, and family game nights without worrying about the weather. In addition, the lift-up bench storage is perfect for pool gear, and the dining table and chairs are ideal for entertaining guests.
10. Garden Gazebo
This garden gazebo is an elegant addition to any garden, providing a place for relaxation that is both spacious and intimate. A simple and elegant structure with a gabled roof, arched entryway, and ruddy exterior. It features terrific architectural details that make it a natural focal point for visitors to your garden. The circular concrete patio creates a delicate and quite notable base, which acts as a geometric balance to the rectangular gazebo's shape and airy appearance.
11. Connected Gazebo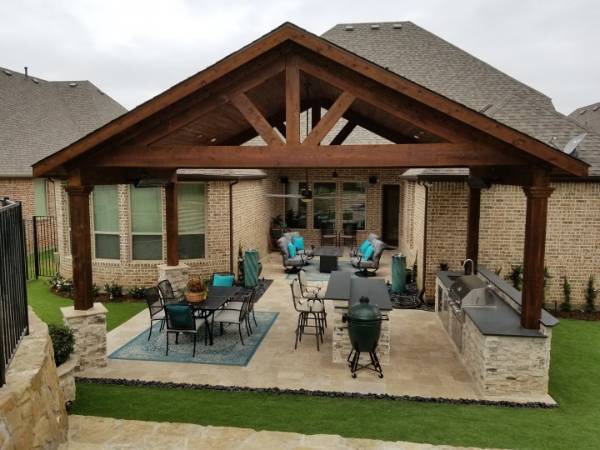 This gazebo is the perfect place to host large gatherings. It provides guests with a shaded area and ample space to mingle. The gazebo's simple design allows it to blend into the landscape and be used as an extension of your home's covered patio. The white siding and wood accents complement the home's natural palette, lending an air of sophistication that will make guests feel welcome.
An arched opening lends definition to this otherwise open structure, while simple railings allow you to enjoy sea and sky views without blocking them from view.
12. Mini Gazebo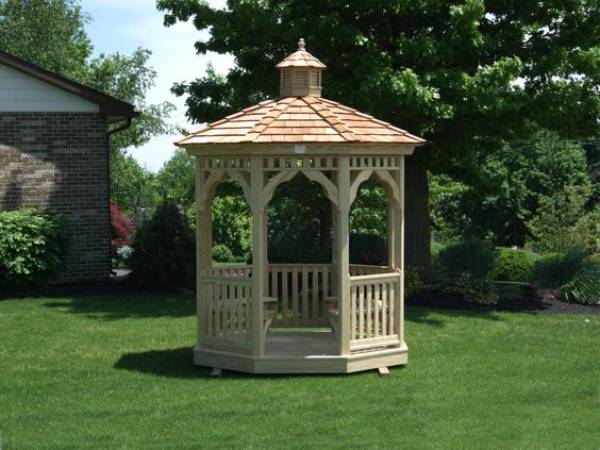 This cottage-style gazebo is the perfect addition to your yard. With its striking twin gables, metal roof, skylights, shapely cedar shingles, glass windows, and door, it's sure to catch anyone's eye who walks by. So whether you're looking for a place to escape on a hot summer day or want somewhere to sit out in nature with a good book, this gazebo will be there for you. It's also easy to assemble and weatherproof, so you don't have to worry about it being damaged by rain or snow.
This beautiful gazebo has all the amenities you could ever want: a place for two people to sit comfortably, space for several people at once if need be (or even more if you're feeling adventurous), and even some skylights so that the light can filter in during those dark winter days when all you want is a little bit of sunshine on your face.
If you're looking for an attractive way to add interest to your yard without spending too much money on plants or other decorations (which can sometimes die quickly), this is the perfect one for you.
13. Period Style Gazebo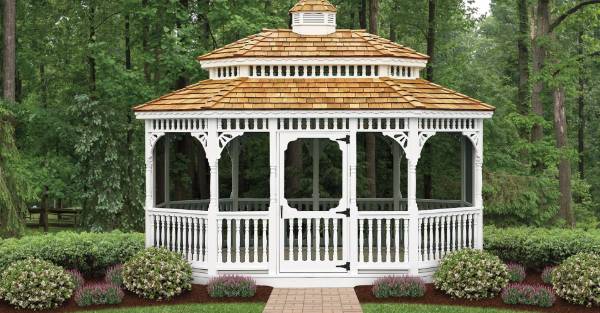 This charming octagonal gazebo evokes Victorian-era air, which features spandrel details, comprehensive corbel supports, and a vented cupola. When you want to bring the outside in, you need a conservatory gazebo that can do it all. This one-of-a-kind structure features a walled section where a mirror hangs, and a potting bench showcases an orchid collection. These Built-in benches are softened with cushions and pillows to invite lingering.
14. Screened-In Gazebo
Whether looking for a place to relax, entertain friends, or get fresh air, this screened-in gazebo is the perfect option among all other gazebo ideas and designs. It's got a period Victorian look that's sure to impress your guests, but it also provides modern features like a screen porch that will keep bugs out when trying to enjoy the outdoors.
The breezeway at the front of this gazebo grants access to the space from your home and adds extra floor space for setting up tables and chairs when you're ready for a party.
15. Natural Knockout Gazebo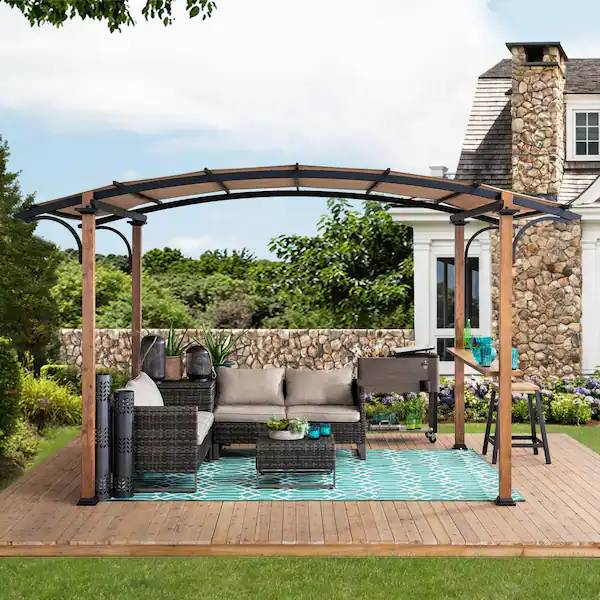 The Natural Knockout gazebo is an architectural marvel. The roof's fetching final, shapely wood shingles and broad steeple shape demand attention. The natural tone of the lattice walls that construct the base of this gazebo is sure to impress. The interplay of these walls with the green grass surrounding them creates a striking contrast that will make people stop and think about nature's beauty.
The gazebo boasts a gracious panache supply. It sits atop landscaping stone and a mulched foundation for at-one-with-the-environment appeal. This gazebo has no artificial floor; instead, it rests on natural ground level.
16. Simple Backyard Gazebo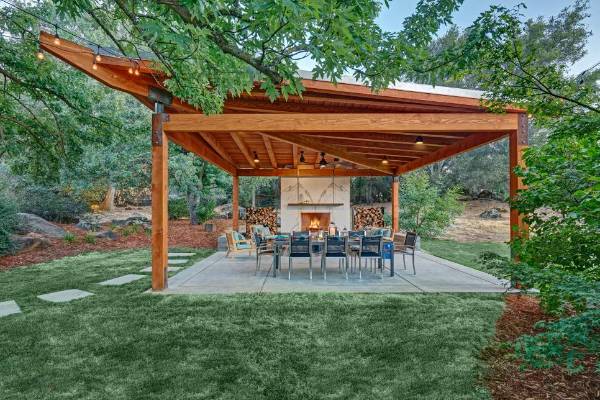 A rustic-chic gazebo that builders build from reclaimed lumber and beams offers a place of respite in the garden—a wood-shake rooftop this structure, which is furnished with a table and chairs below a candle-equipped chandelier. This gazebo is ready to host all your big or small events. It's got everything you need: an outdoor dining space, a bar area, and even an outdoor fireplace for those chilly nights when it's just too cold for any other kind of heat source.
17. Deck Gazebo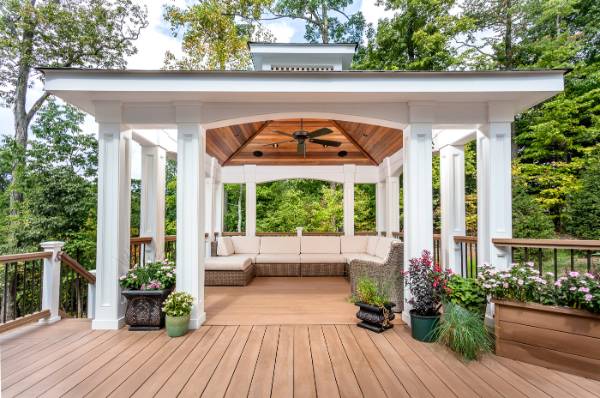 With its double cupola and spacious footprint, this gazebo provides a stylish and functional addition to the large deck it adjoins. The octagon shape of the gazebo adds visual interest to the deck's design while also providing extra room for relaxing under the shade of the cupola. In addition, the screened openings allow for fresh air and a view of the surrounding landscape while still providing privacy.
18. Outdoor Living Gazebo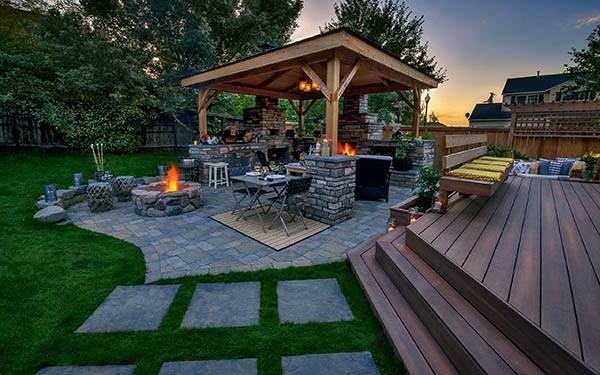 If you live in a pleasant climate, there's no reason to spend your weekends inside. Instead, create an outdoor living space that is both cozy and comfortable.
Start with a sofa with thick cushions, plenty of pillows, and an area rug to keep your feet warm. Then, add some plants—potted or hanging—and string lights with woven pendant lights to create a warm glow around your comfortable space.
Put your outdoor living gazebo in your backyard to escape the sun and heat. You can build one or hire someone to do it for you. The gazebo offers shade from the sun, which helps keep your patio cool so that it does not get too hot.
19. Trellis Gazebo
If you're looking for a way to add some drama to your outdoor space, this paige trellis gazebo and fence is the ideal solution. With its dark hue and unique design, this gazebo will stand out in any landscape. Not only does it provide shade, but it also provides a stunning backdrop for hanging lights or growing vines.
This gazebo is designed with an open frame perfect for displaying plants and flowers. The roof is made from wood slats arranged in an attractive pattern. This design makes the roof lightweight but sturdy enough to hold up against the elements for years of enjoyment.
20. Whimsical Gazebo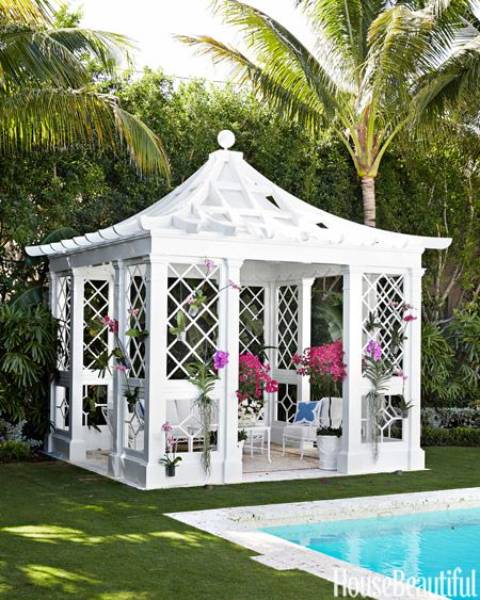 This gazebo is an inviting entrance to your garden. The arched opening is a perfect place to relax with a book and a glass of wine or to converse with friends while enjoying the view. Designers designed this whimsical gazebo to provide a beautiful, secluded place to enjoy the garden. It features a lattice wall on one end that allows you to enjoy the view of the garden while still feeling like a secluded oasis.
21. Tropical Oasis Gazebo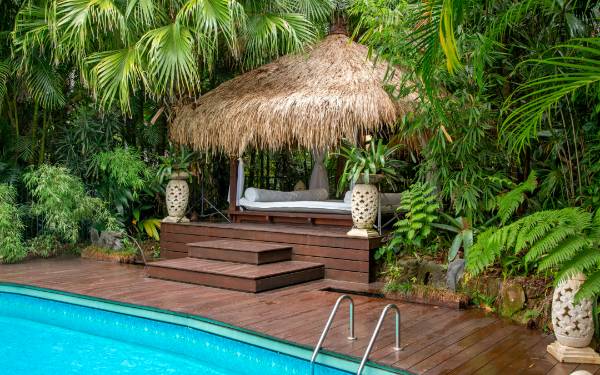 The Tropical Oasis Gazebo is a large gazebo with curtain walls that allow you to easily choose privacy or enjoy the fresh breeze and view of the pool. With this backyard, you can enjoy a tropical-inspired atmosphere that will make you feel like you're on vacation all year round.
22. Completely Enclosed Gazebo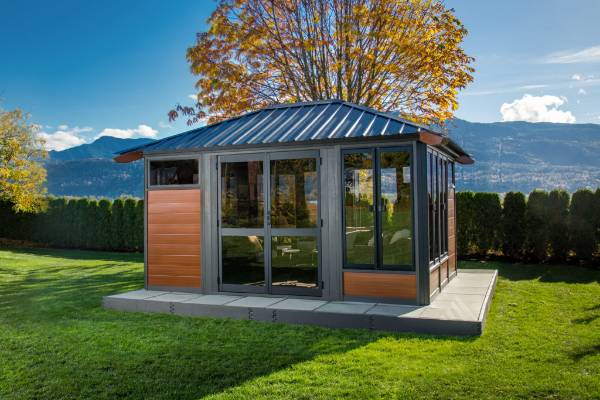 The dining table inside a gazebo is a must-have for people who want to enjoy the natural surroundings while still having a 360-degree view of nature. This gazebo has all glass walls, so you can enjoy the benefits of being indoors while enjoying nature's beauty.
23. Natural Wood Gazebo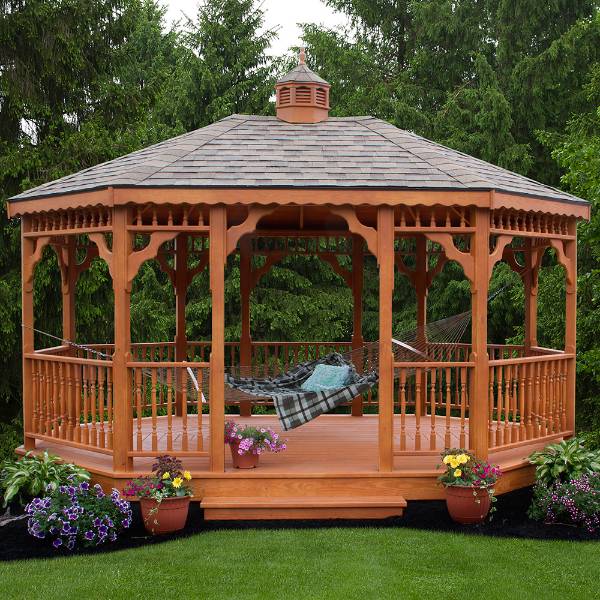 The natural wood gazebo features a beautiful roofline and is surrounded by potted plants. There are two benches attached to the side of the gazebo, one of which has a hanging plant above it. The other bench has string lights draped over it, giving off a soft glow in the evening. The flooring is an outdoor rug that covers most of the space. The gazebo is next to a small fire pit, perfect for gathering after dinner or drinks.
The wooden table with chunky legs acts as a coffee table for the comfy sofas and chairs around it. The potted plants on either side of the table add some greenery to this space, while the string lights running across the top of the gazebo help create a relaxed mood at night.
24. White Brick Gazebo
The white brick gazebo is perfect for enjoying your new backyard oasis. The same material as the main home's exterior, the white brick adds a cohesive look, while the wood ceiling brings contrast. This gazebo has everything you need to stay entertained, from a flat-screen TV to a fully equipped outdoor kitchen.
25. Cabana-Style Gazebo
Nothing beats sipping your favorite beverage while lounging on comfortable chairs beside the pool. That's why Egy Gazebo designed this backyard with a large gazebo with a ceiling fan for those extra hot summer days.
26. Grand Gazebo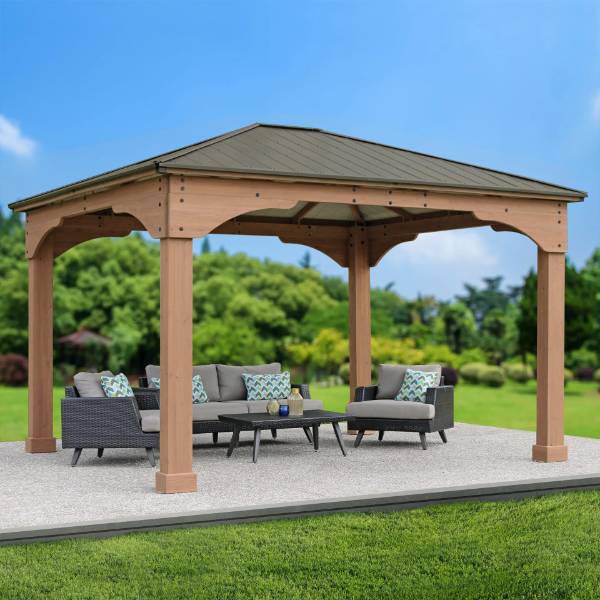 The gazebo at the center of this backyard is a statement piece. Its grand columns resemble Grecian architecture, and it's sure to attract attention from everyone who sees it. You can use the gazebo for multiple purposes, from providing shade (especially if you add an awning) to serving as a dance floor for summer gatherings.
27. A Minimalistic Gazebo
This backyard is a minimalist's dream. Professionals streamline the style and make it straightforward, with just enough color to make it pop. A simple wood gazebo houses the decked-out pizza oven and seating area, which provides the perfect spot to hang out with family and friends while you cook up your favorite pizza recipes.
28. Upscale Gazebo
The gazebo is prevalent in many backyards but is often just a place for kids to play. However, this gazebo is more than that. The dark brick columns carry through to the freestanding fireplace and flooring, while a wood ceiling creates the perfect contrast.
29. A Makeshift Gazebo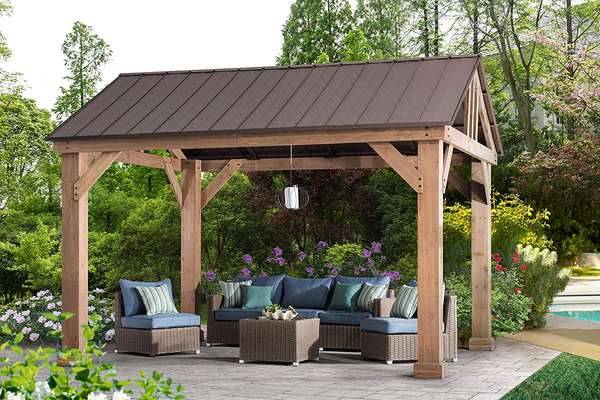 If you want to make your outdoor living space feel more like a room, try this outdoor living room. The gazebo-like structure creates a cozy, private space perfect for enjoying the outdoors.
If you don't have a budget for building an actual gazebo, don't worry. You can create the same effect with a pergola and budget-friendly additions like corrugated fiberglass roofing panels and curtains. In addition, the outdoor sofa and rug pull the whole look of the outdoor living room together.
30. Boho Vibes Gazebo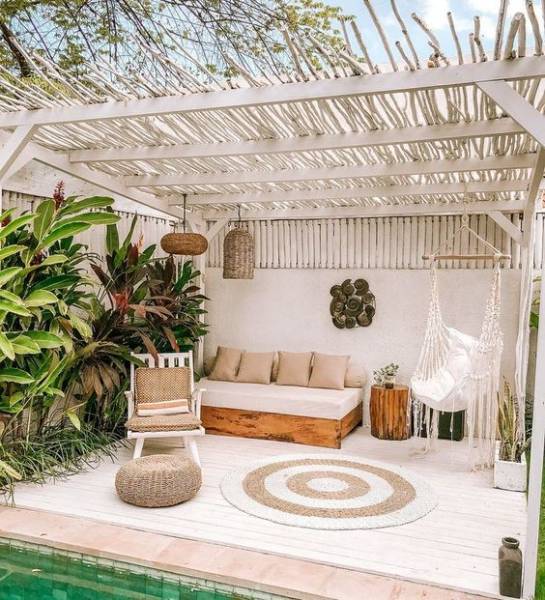 This boho-inspired outdoor living gazebo contains crisp white details, including the gazebo and rattan furniture. The woven pendant lighting complements the earthy color palette while creating a warm and inviting look.
31. A-Frame Gazebo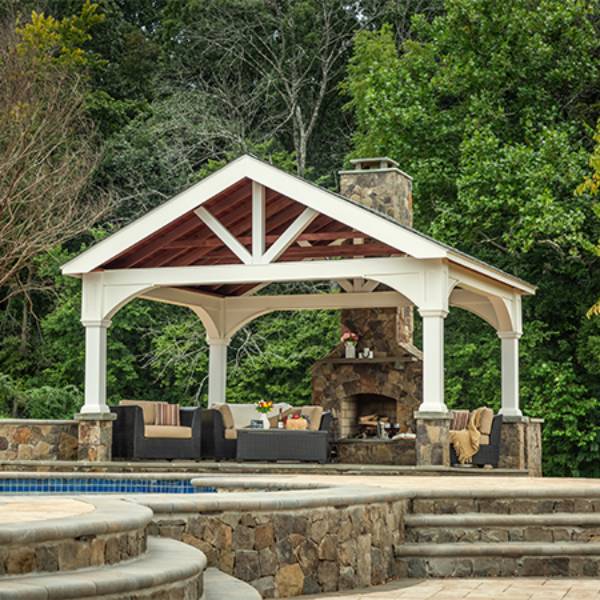 When it comes to outdoor living, this A-frame gazebo is the perfect design solution. Not only does it add visual appeal, but it doesn't impede views of the beautiful tall trees in the backyard. In addition, the white brick column and walls keep things private while making the space open and airy.
32. Dining Al Fresco Gazebo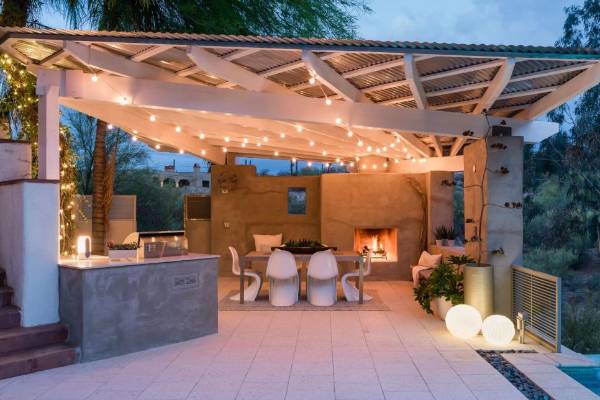 The gazebo is the perfect place to enjoy a meal al fresco. The simple wood frame is a beautiful backdrop for your outdoor dining experience. The surrounding garden and the tables make you feel as though you're eating on the patio of your favorite restaurant.
33. Built-In Seating Gazebo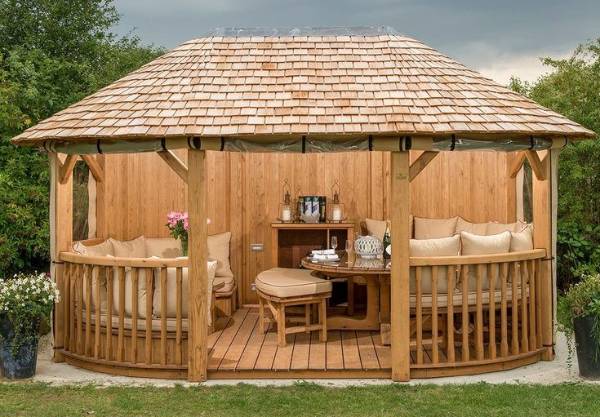 Are you looking for a way to make your garden more inviting? The Octagonal Seating Gazebo with Built-In Bench Seating is a great way to do that. With eight sides, the octagonal gazebo offers plenty of seating space for everyone. And you don't have to worry about running out of seats if unexpected guests come over.
Related: 41 Different Types Of Pergolas – A Comprehensive Guide
Conclusion
Regardless of your style and the gazebo design you will choose, a gazebo is an excellent option for your backyard. It's a great place to enjoy the shade and get away from the sun if you don't want to go inside. Please get in touch with us here at Egy Gazebo if you have any questions about gazebos or other outdoor structures.