Introduction
Many types of Pergolas are an excellent addition to any home. They provide shade and cover and add beauty and elegance to your backyard or patio. With so many different types of pergolas, you can choose the kind that best suits you and your family's needs.
Different Types of Pergolas According To The Materials
Vinyl Pergolas
Manufacturers make vinyl pergolas from vinyl, a flexible material but hard enough to maintain its shape. Vinyl can be molded into any shape and is inexpensive to manufacture in large quantities. It's perfect for creating arched pergolas because they can mold it into curves without losing its form or strength.
Vinyl is also easy to clean, weatherproof, and requires no maintenance apart from the routine cleaning of debris from the surface (although there's no need to worry about rotting wood). These qualities make it ideal for DIY projects where you want something attractive but don't want to spend much money.
One caveat: unlike wooden pergolas, vinyl pergola covers will not last as long outdoors unless manufacturers treat them with UV protection—which some manufacturers may include at an added cost.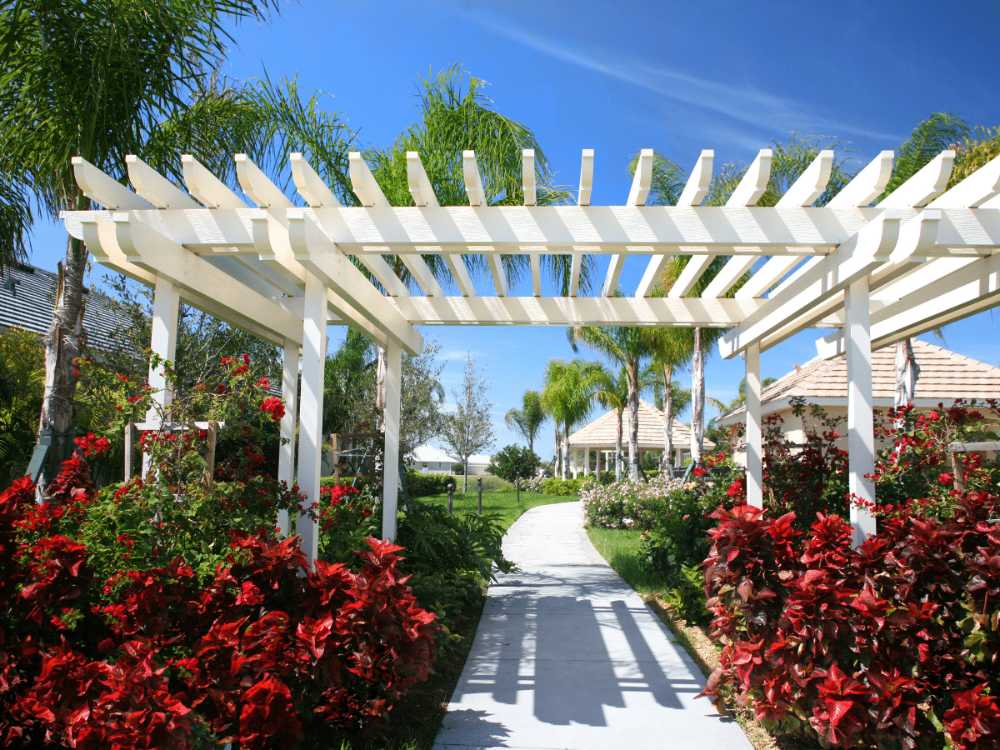 Related: The Ultimate Guide To Vinyl Pergola Kits
Steel Pergolas
Steel pergolas of all types of outdoor pergolas are an excellent option for those looking for something that will last. They can be painted or stained to match your home and can also provide some privacy if you choose. In addition, the steel itself is solid and durable, making it a good choice for areas with high winds or extreme weather conditions.
The main drawback with using steel for your pergola is that it's much more expensive than wood, so you'll have to spend more money upfront when building it. If you're on a budget and can't afford to spend much time working on the project yourself (or don't want to do any work at all), this may not be the suitable material for you.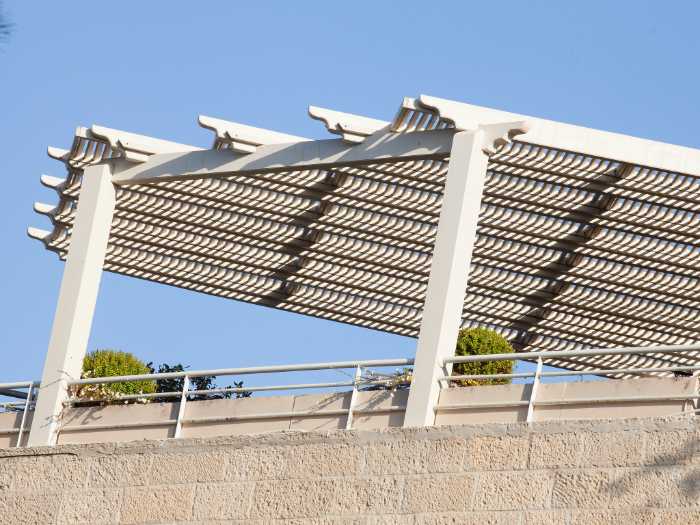 Aluminum Pergolas
Aluminum pergolas of all types of pergolas are the most popular type of pergola. It is an excellent choice for a pergola because it is lightweight and easy to install and maintain. That makes aluminum ideal for outdoor areas where they will be exposed to the elements.
Pergola kits that include an aluminum frame are often less expensive than other types of wood and are versatile in their design options. For example, designers can customize them with lattice panels or solid walls that offer privacy and shade while allowing light.
Fiberglass Pergolas
Manufacturers make fiberglass pergolas of glass fiber reinforced polyester resin, and they are solid, durable, and weather resistant. They come in various colors and styles to fit any outdoor space or garden.
Fiberglass pergola is available in various sizes, colors, and shapes. They are the most popular choice for outdoor living due to their easy maintenance and durability. In addition, fiberglass pergola offers a custom design that adds to their appeal and helps you create an elegant look in your backyard or garden area where you want it installed.
Fiberglass also offers a lightweight structure with easy installation, making it a popular choice among homeowners who wish to improve their outdoor living areas with beautiful pergolas for shade or decoration.
Concrete Pergolas
Concrete pergolas of all types of pergolas are an excellent choice for outdoor living. Builders can build them in any size, shape, or color. Concrete pergolas are also durable, so you can use them year-round.
Concrete is one of the most popular materials used to build outdoor structures because it's easy to work with and looks great. It comes in several different textures and colors, so you're sure to find something that will look good at your home.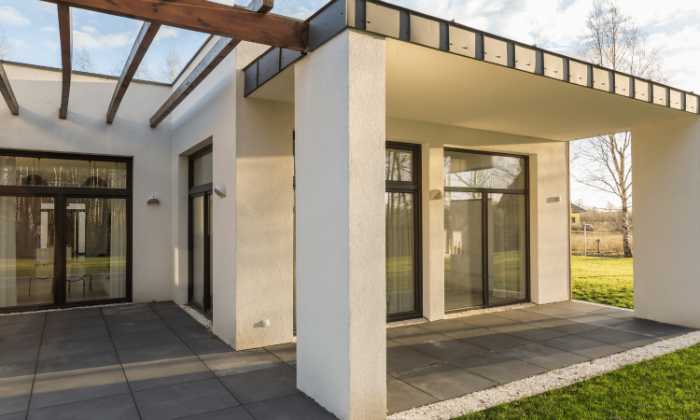 PVC Pergolas
A PVC pergola is the most affordable option. This type of pergola is also easy to assemble and lightweight, making it easier to move if you want to change its location on your property.
It's available in various colors like natural wood, white and black. If you prefer to have an unusual color for your vinyl pergola, designers can easily paint it with any exterior paint color that matches your home's exterior design scheme.
It's important to note that this type doesn't provide as much privacy as other options due to its transparent material; however, if privacy isn't a concern for you, then this might be an excellent choice because it allows more sunlight into the space beneath the structure which means fewer energy bills.
Bamboo Pergolas
Bamboo pergolas are an excellent option for a tropical look. You can use them in various ways, including as an entrance to your home or as an outdoor living space. In addition, bamboo pergolas are lightweight and easy to install, making them highly customizable.
Bamboo pergolas could be an excellent choice if you're looking for something that will add value to your house by increasing its resale value.
The main advantage of using bamboo is that it's easy and fast to build and maintain. However, you need a few tools and basic construction skills to start building one yourself.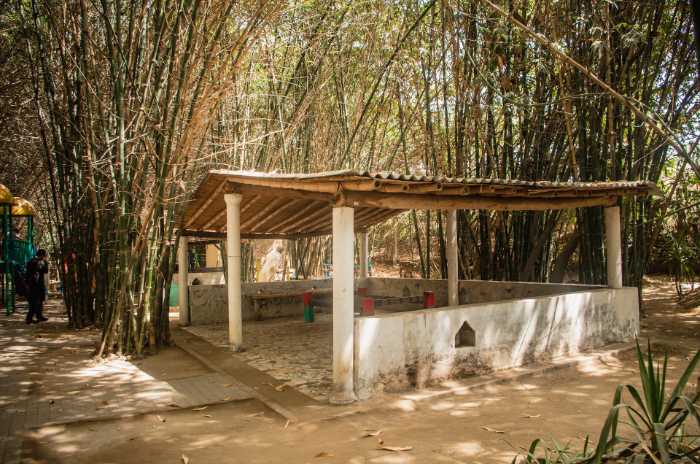 Iron Pergolas
Iron pergolas are considered the most durable, long-lasting material. They can withstand harsh weather conditions and last for decades without any maintenance. Iron is also known for its ability to hold up against high winds, making it a good choice for areas with frequent storms or coastal regions.
Iron pergola comes in various styles with varying complexity and intricacy, from simple lattice panels to ornate Victorian designs. Iron's versatility allows you to choose the perfect design that matches your home's architecture while allowing airflow through the pergola structure.
Iron comes in two primary forms: cast iron and wrought iron; both have similar properties but differ slightly in the manufacturing process and appearance (cast iron has more of a grayish tint than that found on wrought). Both types offer strength and great looks; however, due to their sturdiness, wrought will be more expensive than cast because of how difficult it is to work with this material.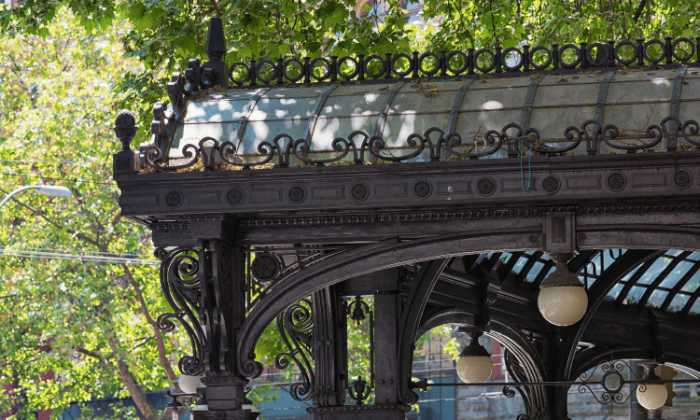 Stone Pergolas
A stone pergola of all types of pergolas is an excellent choice for your home. It's durable and long-lasting, with a classic look that will never go out of style. Manufacturers can make a pergola from different stone types, including limestone, granite, and marble. You can pick the kind of stone that complements the architecture of your house—or you can select one that contrasts nicely with it.
A stone pergola is an excellent way to turn your yard into a beautiful outdoor space for entertaining or relaxing. Stone is easy to work with, so adding columns between posts will be simple enough for even the most inexperienced do-it-yourselfer; however, if you're planning on using mortar, then it's best left up to professionals who know what they're doing.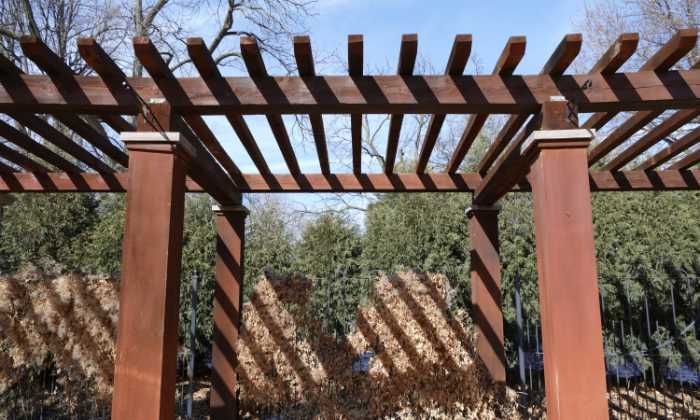 Timber or Wooden Pergolas
A timber pergola is an excellent option for those who want a natural look and feel when they build their outdoor space. If you create an outdoor space that looks inviting and relaxing, a timber pergola will last longer than other materials and give you the most value for your money.
Timber pergolas are available in various styles, from simple lattice structures to more intricate designs with arches or other curves. Many options are available when choosing the best timber pergola for your needs.
Cedarwood Pergolas
Cedarwood pergola of all types of pergolas is an excellent choice for those who want to add a touch of elegance to their home. It is a durable material that can withstand the elements and is resistant to rot and insects. You certainly do not have to worry about maintaining it because it requires no maintenance.
Designers can paint cedar pergola and stain it any color, depending on the look you want for your backyard. In addition, the Cedar pergola is affordable compared to other types of pergola so that everyone can enjoy this modern architectural feature in their homes at an affordable price.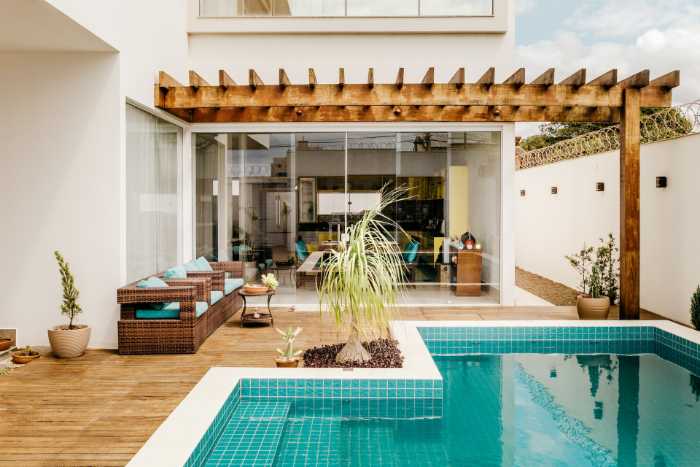 Different Types According To The Pergola Designs
Gable Pergolas
A gable pergola is a triangular-shaped pergola that has two sides and a peak. It is the easiest to install, but you can only use it in small spaces.
The second type of gable pergola is a rectangular-shaped pergola that has three sides and two peaks. It is the most popular option for any space but takes more time to install.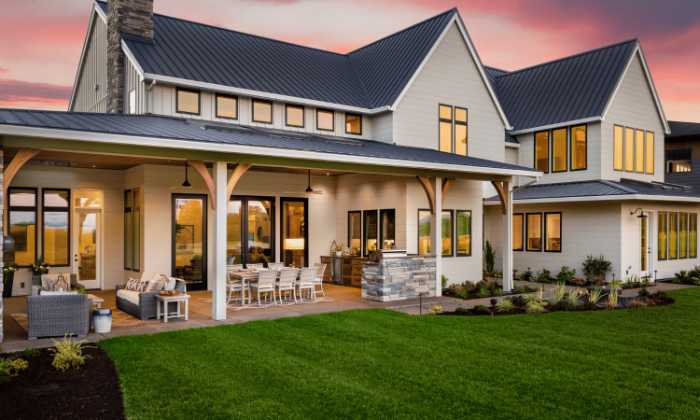 Sail Pergolas
A Sail Pergola is a roofed pergola. It has a sail-like roof, which provides shade and helps block wind. Manufacturers usually make a sail pergola of wood but can also be made of aluminum or vinyl.
The different materials are good choices depending on where you would like your pergola to go and how much money you want to spend on it.
Sail Pergolas are good choices for shady areas. This is because they do not allow too much light into the space under them, which might make it hard for plants or people to grow there if there is too much sun exposure without shade.
Pitched Pergolas
The gabled pergola is the most common type of pitched pergola. The sloped roof allows rainwater to flow off the structure, keeping it dry. It also helps keep the interior cool by allowing air to circulate under and around the frame.
Manufacturers can make sloped roofs from wood, metal, or vinyl; each material has different advantages and disadvantages depending on your budget and aesthetic preferences.
Open-top Pergolas
Open-top pergolas are superb for those who want to enjoy the view of their surroundings but also want to block off the sun.
They are also great for those who want to use their pergola as a space for entertaining guests. Because it is open on all sides, you can easily add lights or even have tables and chairs set up under it during parties or other gatherings.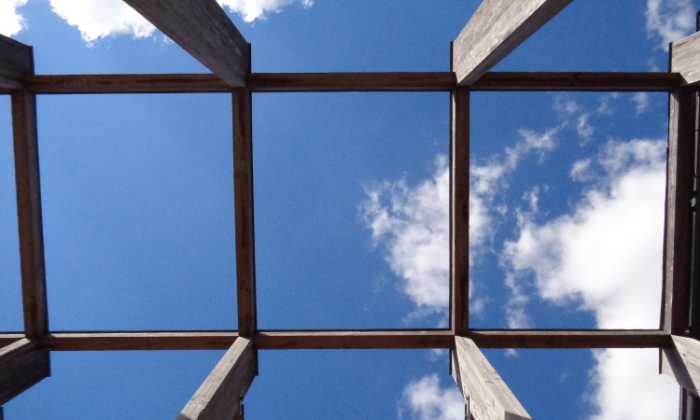 Freestanding Pergolas
A freestanding pergola is a pergola that is not attached to a house, but designers instead built it as part of outdoor living space. They are typically made from wood and can be moved around the garden, making them ideal for use as an outdoor dining space or sunshade.
Freestanding pergolas are becoming increasingly popular with homeowners as they provide a simple way to add extra space outside without worrying about the hassle of building foundations.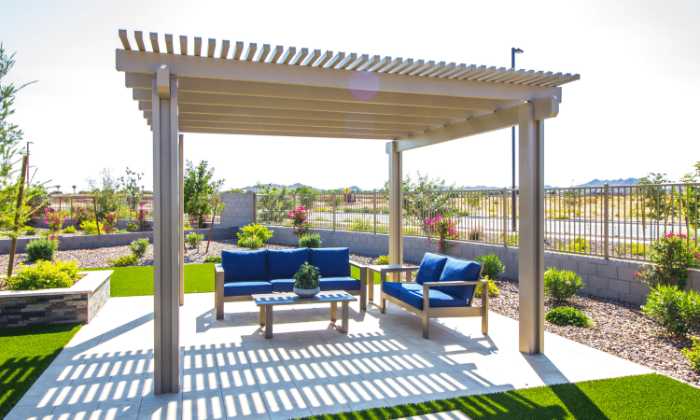 Attached Pergolas
An attached pergola is essentially a sunroom attached to the side of your house, so you can use it as an outdoor living room, dining room, or bedroom.
You can also install an attached pergola in front of your existing home or add a new one if there's enough space. Here are some common uses for an attached patio:
Living room.
Dining room.
Kitchen.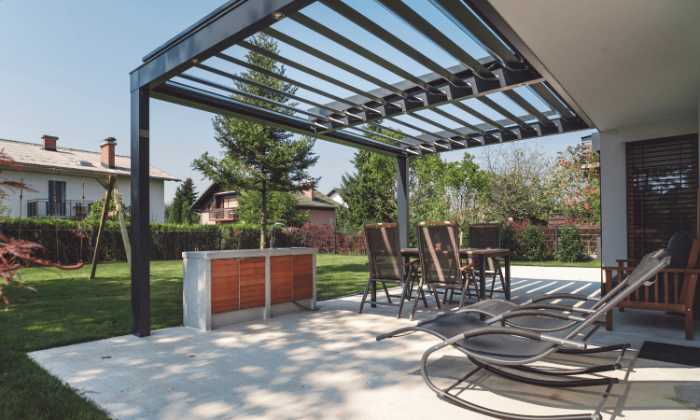 Arched Pergolas
The arched pergola is a beautiful addition to any garden. Its curved shape adds elegance and beauty.
Manufacturers can make a traditional arched pergola from wood, metal, or plastic. Each material has pros and cons—wood will last the longest but may rot over time; metal can rust when exposed to the elements; plastic is lightweight but not as durable as other materials.
Louvered Pergolas
A louvered pergola is a structure that uses slats to allow air to flow through. These structures are designed for use in tropical regions and provide shade from direct sunlight, allowing people to enjoy their gardens even when it's hot outside. You can use louvered pergolas can also be used as a rain shelter or wind barrier.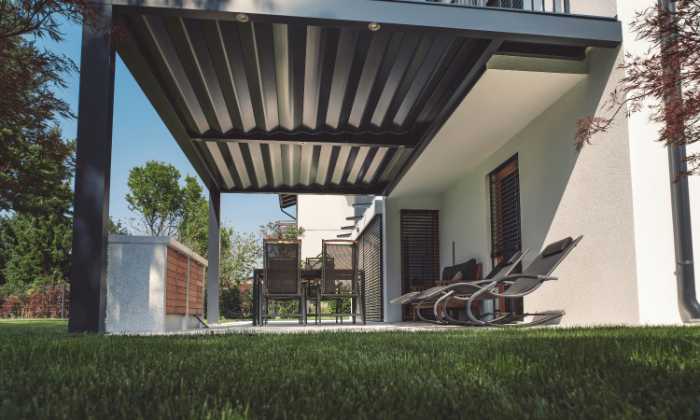 Awning Pergolas
If you want to enjoy the outdoors but don't want to worry about the weather, out of all types of pergolas awnings are an excellent choice. Awning pergolas have a roof that you can roll back, allowing you to enjoy being outdoors without worrying about rain or other inclement weather.
CNC-cut Pergolas
CNC-Cut pergola is a relatively new type of pergola. Manufacturers cut out this pergola of a single piece of wood. It also looks like they pour it into place. CNC-Cut projects are more complex than hand-carved ones, but they can be just as beautiful and lasting if done correctly.
Retractable Pergolas
Retractable pergolas allow you to enjoy the outdoors without being bothered by sun, wind, and rain. They're great for patios that are used for entertaining guests or for areas where you want to keep a garden tidy.
You can open or close the retractable roof using a cord connected to the top of your structure. One drawback of this type of pergola is that it's not as sturdy as other models; however, if you're looking for something temporary and lightweight, this might work well for your needs.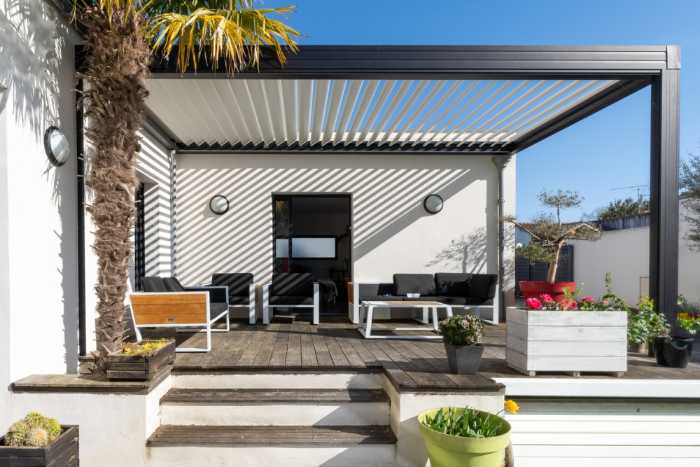 Roofed Pergolas
A roofed pergola of all types of pergolas built is an excellent option to add a new room to your home. Manufacturers can make these pergolas of various materials, including vinyl, aluminum, and steel.
If you're looking for a pergola with a more traditional look, you may want to consider a wood-framed pergola. Manufacturers typically make them of cedar, redwood, or composite materials.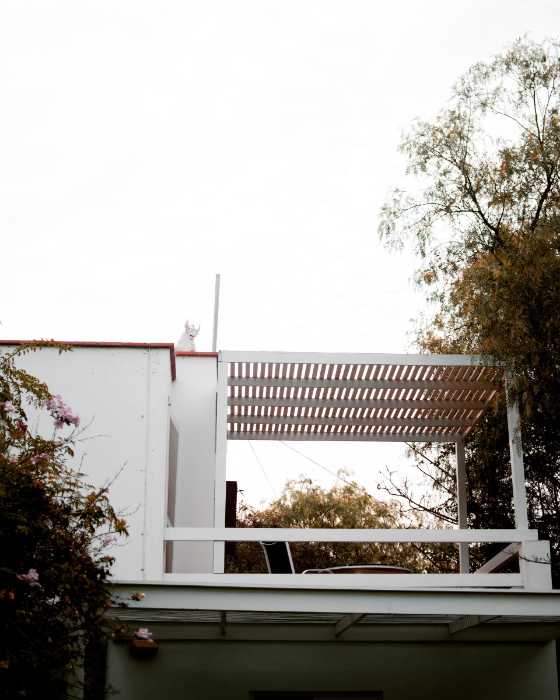 Slanted Pergolas
A slanted pergola is a type of pergola that is slanted. The slant can be used to create shade or as an aesthetic design element. A slanted pergola is an excellent option for those who want to use it as a shade structure while also having clear visibility of what's underneath it.
Also, you can use it as an overhead covering for outdoor living spaces, especially when you don't have the space for both sides of your house to have their gazebos and garden sheds.
Asian Pergolas
The Asian pergola is a type of pergola that has a unique feature. It has a curved roof that designers make of wood. You can see this type of pergola can in Asian countries like India, Pakistan, and Bangladesh.
Usually, it is made of bamboo or wood and has a curved, sloped roof. In India, it is called a "chhattri" and is used to provide shade. Many people also use it to decorate homes and gardens with its beautiful design.
Cantilever Pergolas
A cantilever pergola is a type of pergola that has a cantilevered beam that supports the roof. It is an excellent choice for a patio or a garden.
This type of design usually has two posts at each end and one in the middle, but some designs have four posts on each corner.
This design provides enough space underneath to create extra seating areas or storage spaces depending on your needs and wants.
Canvas Pergolas
A canvas pergola of all types of pergolas construction is an excellent choice for outdoor living. A canvas pergola is a great way to add shade to your patio or backyard and enhance the style of your outdoor living space. The beauty of this pergola is that you can use it year-round, even when it's raining.
A canvas pergola will give you all the benefits of an aluminum or wood structure without worrying about weather damage. Canvas material is waterproof and durable against sun, rain, and snow. That makes it perfect for any climate while protecting it from high winds.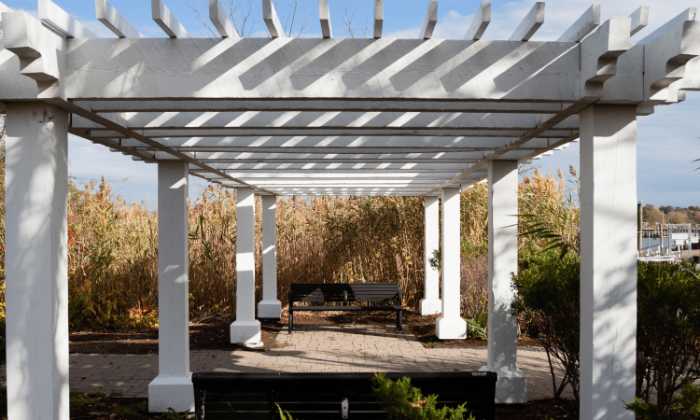 Carport Pergolas
A carport pergola is a great way to add shade to a carport. A carport pergola is also an excellent option to make your carport into an extra room or a covered patio.
Carports can be perfect for people who do not have enough space on their property to have an outdoor patio. A carport pergola comes in many different styles and shapes, so you can find one that matches the style of your home.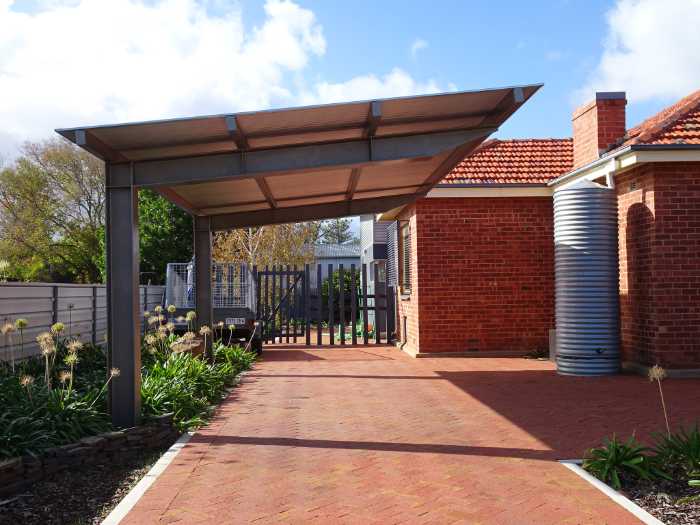 Composite Pergolas 
Manufacturers make composite pergolas from recycled materials. They come in various styles, and woodgrain finishes, making them look like natural wood but more durable and long-lasting. This type of pergola is easy to install as it comes with all the necessary parts you need. You need some essential tools and knowledge of how to put them together.
Composite pergola kits include everything you need, such as brackets, posts, beams, and rafters. You can choose between self-supporting or cantilevered designs depending on what kind of space is available for your new patio area.
Composite pergolas are also cost-effective because they don't require painting or staining as traditional wooden ones do; therefore, there's no maintenance involved. In addition, composite pergolas weigh much less than their counterparts made from solid wood. So installation becomes a more manageable task since all you have to do is lift them into place rather than screw them into concrete blocks underneath.
That would require heavy machinery and waste valuable time when installing this type of patio coverings. In addition to ultimately affecting everyone's bottom line – whether business owners or homeowners who want something stylish yet affordable enough for their use.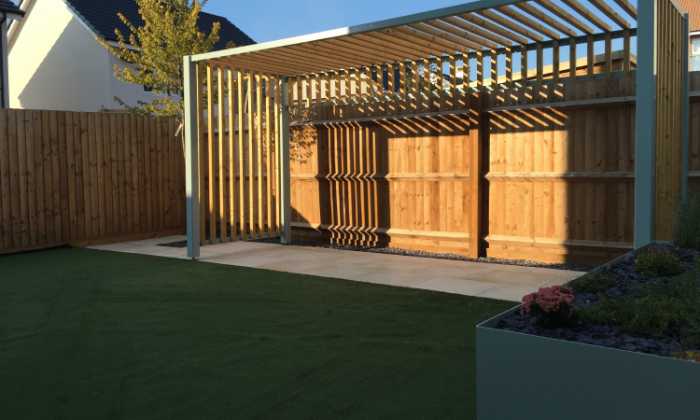 Covered Pergolas
Covered pergolas of all types of pergolas for homes are an excellent option for those who want to enjoy the outdoors but don't want to expose themselves to the elements. Manufacturers can make them of various materials, including wood, vinyl, and aluminum.
Manufacturers can build a covered pergola with a sloped roof or a gabled roof. The use of lattice paneling makes it easy for you to see out while preventing people from seeing in while exploring your yard or garden.
Curved Pergolas
A curved pergola is a type of pergola that has a curved top. You can use it as a room divider, house extension, outdoor living area partition, or shade cover.
This type of pergola is perfect for those who want to create an intimate space without closing themselves in entirely and have limited space. The arched shape will create privacy while allowing natural light to filter your home through its openings.
If you're looking to add architectural enhancement and interest to your outdoor living space and make it seem more like part of your home's decor instead of just an addition, this may be precisely what you're looking for.
Door Pergolas
A door pergola is a pergola with a door. You can use it as entrances to backyards, patios, storage sheds, and guest houses.
You can also use it as an entrance to a room or space converted into a patio. Pergolas with doors provide shelter and privacy for those who live inside.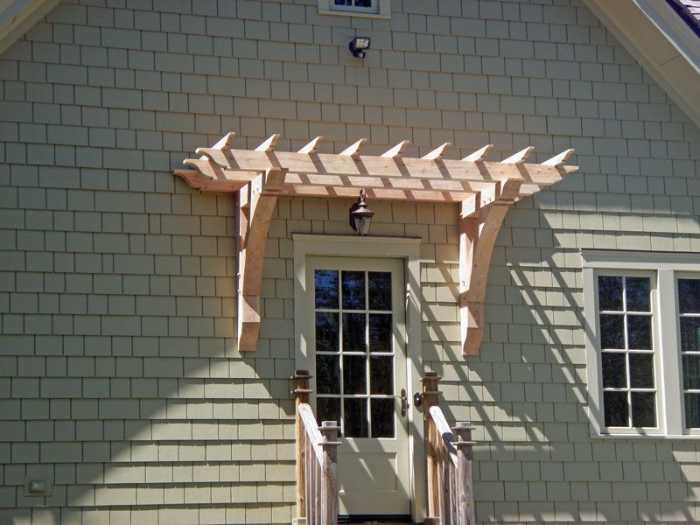 Floating Pergolas
Floating pergolas are an excellent choice for those with smaller yards or anyone who wants to create an outdoor living area on their balcony or patio.
This type of pergola can be installed in almost any space and is easy to maintain, making it an excellent option for those who want to start enjoying the benefits of this structure right away.
When choosing your floating pergola design, there are many different options that you can choose from:
Size.
Style.
Materials used (wood versus aluminum).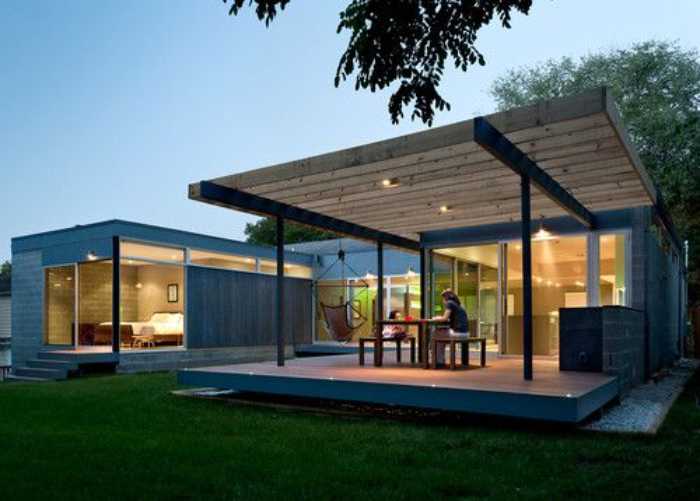 Hexagon Pergolas
Hexagon pergolas of all types of pergolas are a great way to add shade and natural light while allowing you to see the beautiful outdoors. They can also be used as greenhouses, making them an ideal choice for those looking to grow their plants.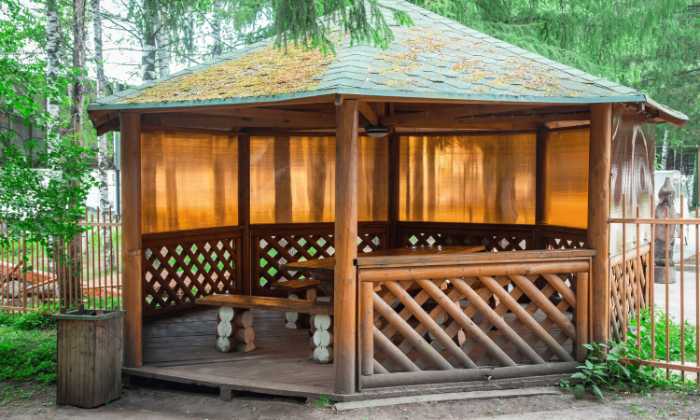 Italian Pergolas
An Italian pergola is a wooden pergola with a flat roof and gutter. You will typically use the Italian-style pergola for outdoor dining, which often exists in restaurants.
The main advantage of this pergola is that it doesn't require any maintenance; you need to ensure it stays dry if you live in an area where rain falls throughout the year.
However, this might not be the best option if your house is near saltwater or swamp land because it could start to rot over time due to moisture damage or decay caused by salty air/water vapor/mold spores nearby structures like decks/patios/porches, etc.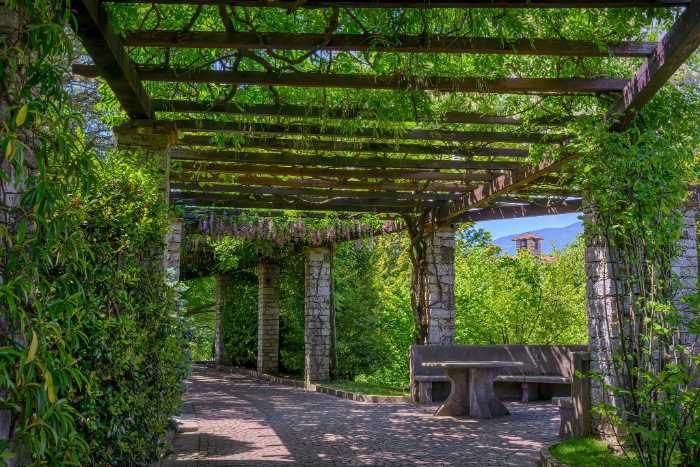 Lattice Pergolas
Lattice pergolas are a type of pergola that has lattice work in it. They're an excellent choice for small spaces, as they can be used as a privacy screen and to support climbing plants.
Pallet Pergolas
If you're on a budget and want to build a pergola, pallets are the way to go. They're cheaper than other materials, and you can use them to create a beautiful structure in your backyard.
You'll need more than one pallet to build an entire pergola, but it's worth it because they look great and provide shade for people sitting underneath them.
The best part about using recycled wood as a building material is that you don't have to worry about maintenance like treated lumber does because this type of wood doesn't rot like other types.
Waterproof Pergolas
Waterproof Pergolas are the most durable and long-lasting of all types of pergolas. They're easy to install, clean, and resistant to UV rays, wind, and rain.
In addition to providing shelter from the elements while you enjoy your outdoor living space, waterproof pergolas can protect your pool area from damage caused by storms or high winds.
You can choose from a wide range of materials for this type of structure, including vinyl, aluminum, or wood.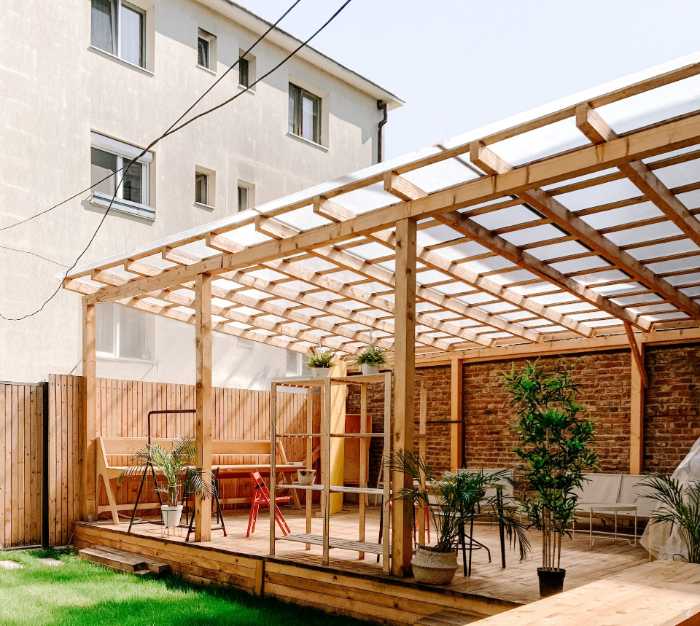 Solar Panel Pergolas
Solar panels are an excellent alternative for those with a limited budget who want to keep their home more environmentally friendly. They can power a pergola, even if it's cold outside.
Although they cost more than non-solar versions, they last longer and save you money in the long run because they don't require electricity from your local energy company.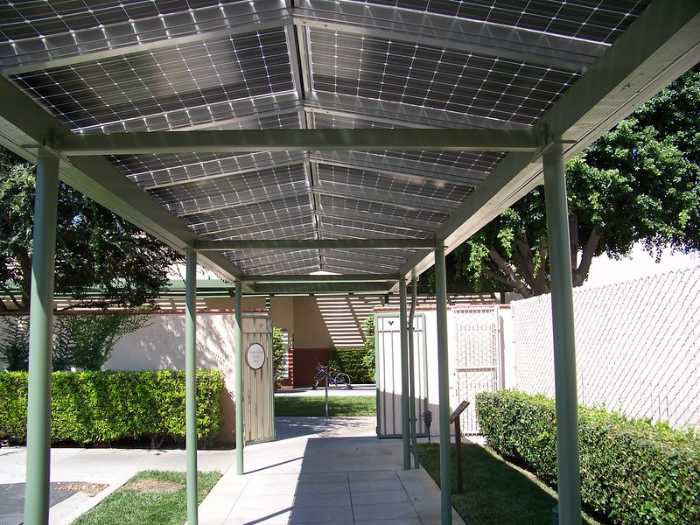 Vine Pergolas
A vine pergola is a type of pergola constructed from vines, and manufacturers can make it from wood, metal, or plastic. If you are interested in gardening, this might be a perfect choice. Also, it is an excellent option if you're looking for a way to add greenery to your yard without doing any work (other than planting the vines).
Builders typically build vine pergolas on one side of a deck or patio area so that people sitting there can enjoy the shade provided by the vines. In addition, they are easy to maintain because they require little maintenance beyond trimming back branches occasionally.
Wall Mount Pergolas
If you have a small yard and are looking for a traditional pergola alternative, look no further than the wall mount. You can install this option on brick walls, wooden fences, and freestanding walls. It is easy to install, requires no heavy lifting, and is usually cheaper than other options.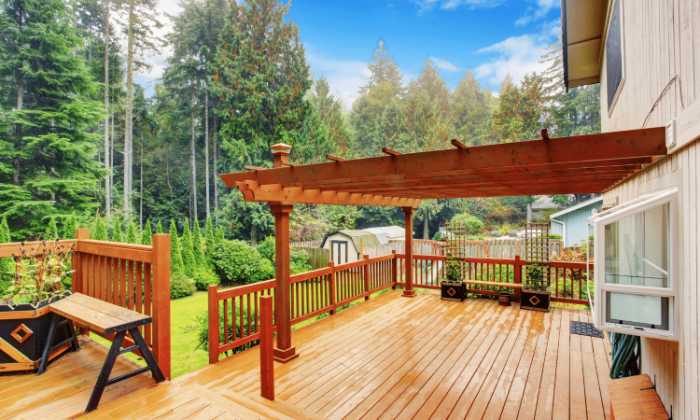 Related: 33 Creative Backyard And Outdoor Gazebo Ideas
Pergola Is An Excellent Addition To Any House
With so many types of pergolas, you can choose the style that best suits you and your family's needs. However, if you're considering adding a pergola to your home, you'll want to consider a few things.
First, what do you plan to use it for? You can use a pergola for many different purposes and as an extension of your home's structure. Here are the most common uses:
Plants—if you're looking for more privacy or shade, consider planting some plants in the space between your house and the pergola. You can also use the space beneath your pergola as an opportunity to grow food or create an herb garden.
Animals—in addition to using it for plantings, a pergola can also function as an area where pets can roam safely outside without posing any threat to passersby on sidewalks or streets nearby. That also allows pets access to their personal space. This is where they won't get tangled up in leash cords or hurt themselves on fences surrounding larger yards behind houses with less fencing around them (such as all homes built before 1980).
Activities—a pergola is also great because it provides ample room for children. It helps them to play games like hide-and-seek while protecting them from sun exposure. That is by overhead coverings that designers make out of material like cloth instead of plastic. That might melt under direct sunlight exposure after prolonged outdoor periods without adequate protection (such as sunscreen lotion applied beforehand).
Conclusion
Pergolas are an excellent addition to any home. With so many different types of pergolas, you can choose the type that best suits you and your family's needs. Pergolas are great to make your patio or backyard more comfortable and enjoyable during the year's warmer months. They are easy to install and require little maintenance once they're up.